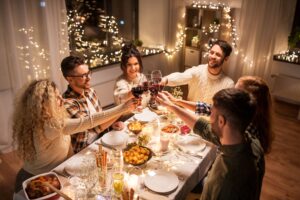 The holidays give us the perfect reason to eat, drink, and be merry. That is unless, you are the one paying for it all. Whether you are planning an office party, dinner with friends, family get-togethers, or a New Year's Eve bash, here are 7 ways to save on the alcohol budget during the holidays.
7 Ways to Save on the Alcohol Budget During the Holidays
1. Go alcohol-free this holiday.
The easiest and most obvious way to save on the alcohol budget this holiday season is to eliminate it altogether. If your finances are tight this year, it may be wise to go without it during the celebrations. That way, you can skip the expense and the hangover.
There are plenty of non-alcoholic beverage options such as cider, hot chocolate, pumpkin spice coffee, punches, and other seasonal drinks that are family-friendly and still offer a toast to the season.
2. Shop around for the best discounts.
The best way to find discounts is to shop around. Check the mail and local stores for their weekly advertisements to see what is on sale. You can also compare prices online to help you get the best deals.
If you compare prices between local stores and distributors, you can also save big. The clearance aisle often has reduced prices for wine, liquor, and beer that the store needs to move to make room for new stock. You can also check apps like Ibotta, Rakuten, and RetailMeNot to find even more discounts.
3. Buy online.
These days, you can buy just about anything online, including alcohol. And, prices are just as competitive, if not cheaper, through online retailers. Many times, sellers will have promotions and incentives to sweeten the deal as well.
If you prefer shopping online, there are also great sites that can help you save. Look for coupons from the Krazy Coupon Lady, Coupons.com, or Groupon if you are looking to save money. If you are patient and check back often, you may get lucky and score bargain bin discounts.
4. Buy in bulk.
Many smart shoppers join a discount buying club because they know how much you can save when you buy in bulk. But, in some states, you may not even need a membership to take advantage of their deals. Since it is illegal to require membership for the purchase of alcohol in some states, you can still get warehouse prices without the annual fee.
However, most liquor stores offer a 10% discount if you purchase by the case. Another idea is to buy a subscription to a wine club to save money and time. Either way, if purchase it at the start of the holiday season, you'll never have to worry about showing up to a get-together empty-handed.
5. Create and prepare a signature cocktail.
Another great way to stretch the alcohol budget is to create a signature cocktail. Not only can this make a limited supply of alcohol last longer, but it also controls the amount of alcohol consumed to ensure people don't partake in too much holiday cheer.
There are tons of festive and delicious recipes available online that use cheap mixers to keep the cost down. You can also serve it in an elegant punch bowl, glass dispenser, or decanter to make it look more sophisticated. Presentation is everything. So, if you use pretty glassware, it can draw attention away from the label. And, chances are most guests won't even notice the change, especially if they are enjoying the company.
6. Find an acceptable off-brand substitute.
Despite what some connoisseurs think, you don't need to drink top-shelf to enjoy the holidays. While there is nothing wrong with treating yourself, perhaps you should restrict it to a single drink or bottle if you are on a budget.
For those who can't afford to drink top-shelf all night, the good news is that there are plenty of off-brand selections that taste similar to their name-brand counterparts. These are perfect for mixed drinks and cocktails. And, many wineries also put out a second label at a lower price. Finding a quality substitute could cut your alcohol budget in half.
7. Don't forget to cash in your rebates.
Take a walk and you'll see that rebates are common in the wine and spirits aisle. While it may only seem like a couple of bucks here and there, they add up. And, you may be able to stack your offers to maximize your savings. Some rebates are instantly redeemable, but others you will have to mail in. Either way, set a reminder so you don't forget to cash in your rebates.
Save on the Alcohol Budget at Costco
While I have incorporated many of these ideas to keep our holiday spending down, Costco always seems to offer the most savings. As a Costco member, I can attest that they have good bargains on quality liquor, wine, and beer as well.
While most distributors mark up their alcohol by 25-45%, Costco only marks up their liquor by 10-14%. You can also find a variety of good wines for under $10.
And, many people don't realize that Kirkland outsources alcohol production to well-known distilleries, breweries, and wineries. The Kirkland vodka is produced by Grey Goose, the bourbon comes from Jim Beam, and the single-malt scotch is from the Macallan Distillery. Even though it may not be name-brand, it comes from the same facilities at a 20-40% discount.
Budget-Friendly Alcohol Selections
The best way to stay on budget is to have a plan and create a shopping list. Knowing what you'll need and how much it costs is half the battle. Based on recent trips, here are some of the best values for your money to help you save on alcohol during your next trip to Costco.
Kirkland Signature Liquors 1.75 L

Premium Domest Vodka = $12.99
French Vodka (Grey Goose) = $24.99
Canadian Whisky = $27.39
Blended Scotch Whisky = $22.99
Blended Scotch Whisky, 12 Years = $52.99
Irish Whisky = $39.68
Irish Cream Liqueur = $20.26
Añejo Tequila = $27.99
London Dry Gin = $25.49
Spiced Rum = $13.99

Kirkland Signature Wines 750 mL

Cabernet Sauvignon = $9.99
Cabernet Sauvignon Merlot = $8.99
Champagne Brut = $19.99
Chardonnay = $7.99
Malbec = $6.99
Prosecco = $6.99
Sauvignon Blanc = $6.99

Kirkland Beer

24 variety pack = $19.99
Kölsch German-Style Ale, Session IPA, Pale Ale, and India Pale Ale
Know matter how you do the math, alcohol isn't cheap. However, there are still ways you can factor it into your holiday budget. So this year, let's toast to good times, great friends, and financial success in the coming year.
Read More
Jenny Smedra is an avid world traveler, ESL teacher, former archaeologist, and freelance writer. Choosing a life abroad had strengthened her commitment to finding ways to bring people together across language and cultural barriers. While most of her time is dedicated to either working with children, she also enjoys good friends, good food, and new adventures.