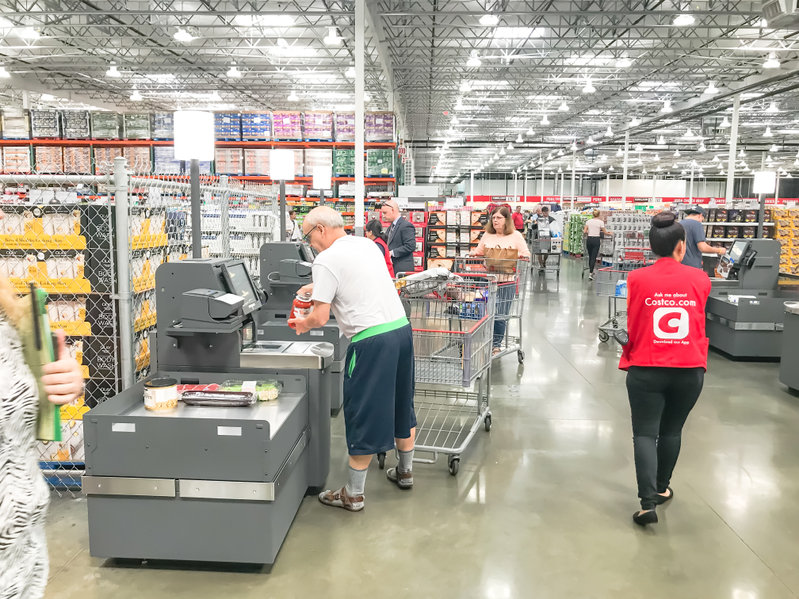 One of the reasons I became a Costco member is that I am always looking for the best deals. Not only do I save a ton of money buying paper and cleaning products in bulk, but they usually have the most competitive prices as well. However, one of the most overlooked and undervalued member benefits is the price drop refund from Costco. Most shoppers already know that Costco doesn't offer price matching with other retailers. However, they will offer price adjustments for their own products when the price drops. This is a great way for budget-savvy shoppers to reclaim a portion of their monthly budget. So, if you aren't taking advantage of the price drop refund, you are missing out on free money!
WHAT IS THE PRICE DROP REFUND FROM COSTCO?
Costco already offers some of the lowest prices for its products. However, they frequently lower their prices even further, especially around the holiday season. This last month has seen rock-bottom pricing on Black Friday Deals and extended sales through Christmas to stay competitive with other retailers and discount buying clubs. For those who missed out on some of these great discounts, don't panic! If you recently purchased something that is now advertised for a better price, you can still claim this member benefit and get a price drop refund from Costco.
HOW DO YOU CLAIM THE PRICE DROP REFUND?
The Costco price adjustment policy is fairly straightforward to get. All you have to do is request a refund, either in person or online, depending on where you purchased the item. If you bought something from your local warehouse and then found a lower price, you can speak with an associate at the membership desk to receive the credit.
Some stores may be sticklers for the rules and will require the original receipt. So, if you have it, make sure to bring it with you. If you lost it, you can always ask a customer service team member to print a duplicate copy for you. Then, they will reprint the price adjustment on the reverse side for you.
The credit is typically returned in whatever form of payment you used for the original purchase. So, if you charged it to your credit or debit card, you can expect to see the credit within 3-5 business days. If you paid in cash or used gift cards, they will take care of it before you walk out the door. However, if you want a different form of credit for your refund, it never hurts to ask. Store policies vary slightly, but some may be willing to offer cashback if you request it.
CAN I STILL GET A PRICE DROP REFUND FROM COSTCO FOR ONLINE PURCHASES?
While you still qualify for a price drop refund for your online purchases, there is a different process you must go through. If you go to their website, you can complete their online form. Or, if you prefer to call, you can speak with a customer service representative at 1-800-774-2678. Once the request for the refund is approved, you will see the adjustment credited back to your account. As previously mentioned, it can take 3 to 5 businesses day before you receive the refund.
Unfortunately, you won't get the price adjustment for online purchases if you try to get a refund at the warehouses. Online prices tend to be slightly higher to compensate for shipping costs. Anything you bought on Costco.com must go through their website or the dedicated customer service line.
WHAT ARE THE POLICY RESTRICTIONS?
While most products qualify for the price drop refund, there are a few limitations you need to be aware of:
First and foremost, it must be an adjustment for the identical product. Similar items will not be eligible for the adjustment.
Secondly, you have 30 days from the date of purchase to claim it. While this is the official policy, many members say they were still eligible for the discount since customer service waived the deadline restrictions. Based on customer comments and reviews, this is fairly common if it is within a few days of the cutoff date.
Another important thing that you should also be advised of is that the refund is based on the current price. So if you bought something online for a higher price than the same product on the shelves in your local store, you can't redeem the refund from the warehouse. It has to go through the same channels as the original purchase.
There are also strict limitations for resellers. The price adjustments are only intended for the end customer. To get the discounted price, resellers must buy the items during the promotional period.
And finally, there are no price drop refunds on alcohol or cigarettes to avoid any conflict where state laws prohibit it.
WHAT IF THEY WON'T GIVE ME THE LOWER PRICE?
Before requesting your price drop refund, you want to make sure you know your local store's policies and whether you are eligible. You can verify this by ensuring it is the same product and that you are requesting a refund from the same place you bought it. If you bought it online, look at the current price so you will know how much credit to expect back. For in-store purchases, double-check the location where you bought the item. And if you can't find your receipt, call ahead to see if they can look it up and reprint it. A little preparation and research can save you a lot of time and hassle should you not qualify for the adjustment.
However, there are always other workarounds if you are having trouble getting the price drop refund from Costco. The simplest answer is to return the original item, then rebuy it for the lower price. Since they have a generous return policy, this is the easiest solution in some circumstances.
Although it requires a little extra effort on your part, the price drop refund can save you a lot of money. Costco gives you several options to request your refunds. And, they will make internal price adjustments whenever possible as a part of their commitment to keeping their customers happy.
READ MORE
Jenny Smedra is an avid world traveler, ESL teacher, former archaeologist, and freelance writer. Choosing a life abroad had strengthened her commitment to finding ways to bring people together across language and cultural barriers. While most of her time is dedicated to either working with children, she also enjoys good friends, good food, and new adventures.