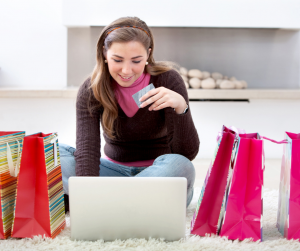 Sometimes we feel like we are spending more money than we make. Groceries go up in price, gas prices rise, and unexpected expenses are always waiting to pop up in the most inconvenient moments. Fortunately, there are ways to find extra cash for doing the things you do every day. Here's how to get paid to shop and earn money back on your purchases.
Top Sites to Help You Get Paid to Shop
Rakuten
Formerly under the Ebates domain, my favorite website for getting cash back joined with Rakuten to help me save more on the online shopping I already do. Millions of websites offer a percentage rebate for shopping on their website. Some shops provide a site-wide discount, and others provide rebates for specific items. For instance, I order groceries from Kroger every two weeks at about $100 each time. If I go through Rakuten, I get 1% back. A dollar may not sound like much, but hold on!
I also buy household items  and prescriptions from Walmart frequently. Walmart offers 1-6% back, depending on the item. I order what I need online and opt to pick up those items at my store. I can quickly stop on my way home when I run errands, so I also avoid paying to ship. You shouldn't change your buying habits when using Rakuten. Only buy what you'd normally buy, but now you'll get paid to shop for things you already purchase. It's like free money for doing close to nothing. When you click on one of their links and buy an item, you'll get up to 10% cash back.
Another great feature allows you to keep your card on file (it won't be charged) and link it to stores or restaurants you visit frequently. It's an extra way to get rebates on your usual spending. Rakuten pays via PayPal or paper check, and they pay out after each quarter. You must have a balance of $5 to receive your payout.  Bonus tip: I love using it for holiday shopping (yay for no lines, no traffic, and cash back!) and planning family vacations.
Earn With Drop
Drop is a free phone app that allows you to connect your credit or debit card so you earn rewards every time you spend money. Do you use Uber frequently? You can get money back! How about grocery shopping, Walmart trips, and Instacart? Yep, you earn cash back. Several stores are available— so pick the top five places you spend the most money. Furthermore, you can earn cash for playing games and taking surveys as well.
Once you start using the app, every 1,000 points you earn equates to $1. You can payout at 5,000 points or higher. Payouts come in the form of gift cards. Your points will vary according to the company you're shopping with. Starbucks is 12 points per $1, but Walmart is 2 points per $1. It may not seem like much, but it compounds quickly if you are the type of person who uses a card and not cash.
Ibotta is a great app that pays you back on your grocery shopping. The free app allows you to select items you will be buying at the store where you are going. When you finish shopping, simply take a picture of your receipt to get the credit. Or, you can make it easy by adding your store loyalty card, so it will automatically reward you for purchases. You can see the items that have a cash back offer and how much they are offering. It may be as little as $0.25 to several dollars. Payout is at $20, and you can receive your cash via PayPal, Venmo, or gift cards (some require $25 to receive).

RetailMeNot
RetailMeNot is another great site where you can get paid to shop. They make it easy to find coupons, promotional codes, and cash back offers. You can browse their site and search by category to save money on things you already buy. Or, you can add their browser extension (like Google add-on) so discounts and rebates will be automatically applied at check-out. Sometimes it finds promo codes I never even knew existed! Just be aware that offers change frequently, so you may not receive the same offer the next time you shop online.
Choose a Credit Card with Cash Back Rewards
First and foremost, I am not suggesting that you add an additional credit card to your wallet for the cash back rewards. However, you should see what you are earning with your current ones. Depending on which cards you carry, you could earn up to 5% cash back on your purchases. Comparing the rewards between cash back rewards programs could earn you more from what you are already spending. Then, once you earn enough, you can redeem the rewards and have the cash deposited directly into your account. If you are uncertain of your card's rewards, call your credit card company to discuss their cash back and other rewards programs.
Beware the Pitfalls When You Get Paid to Shop
The most important thing to remember is that you don't want to increase your spending. It is tempting to splurge when you see huge savings at your favorite stores and all the ways you can rack up rebates. However, it is important to establish good spending habits and avoid accruing more debt. The goal is to stick to your budget and live within your mean. When you get extra money, it can go towards your other financial goals like building an emergency savings plan or paying off debt. The whole idea is to earn money from your regular shopping, not to find new ways to spend more money.
Choose a cashback card that not only pays you to shop but comes with a conscience. Aspiration offers socially-conscious and sustainable ways to spend and save so you can make money while making the world a better place. And, unlike the Big Banks, Aspiration doesn't use your deposits to fund oil pipelines or exploration. Get up to 5% cashback with the Aspiration's debit card or up to 10% cashback on socially conscious spending when you subscribe to Aspiration Plus at Conscience Coalition merchants like TOMS, Warby Parker and more. Now, you can earn cashback and put your money where your values are.
Read More:
Jenny Smedra is an avid world traveler, ESL teacher, former archaeologist, and freelance writer. Choosing a life abroad had strengthened her commitment to finding ways to bring people together across language and cultural barriers. While most of her time is dedicated to either working with children, she also enjoys good friends, good food, and new adventures.