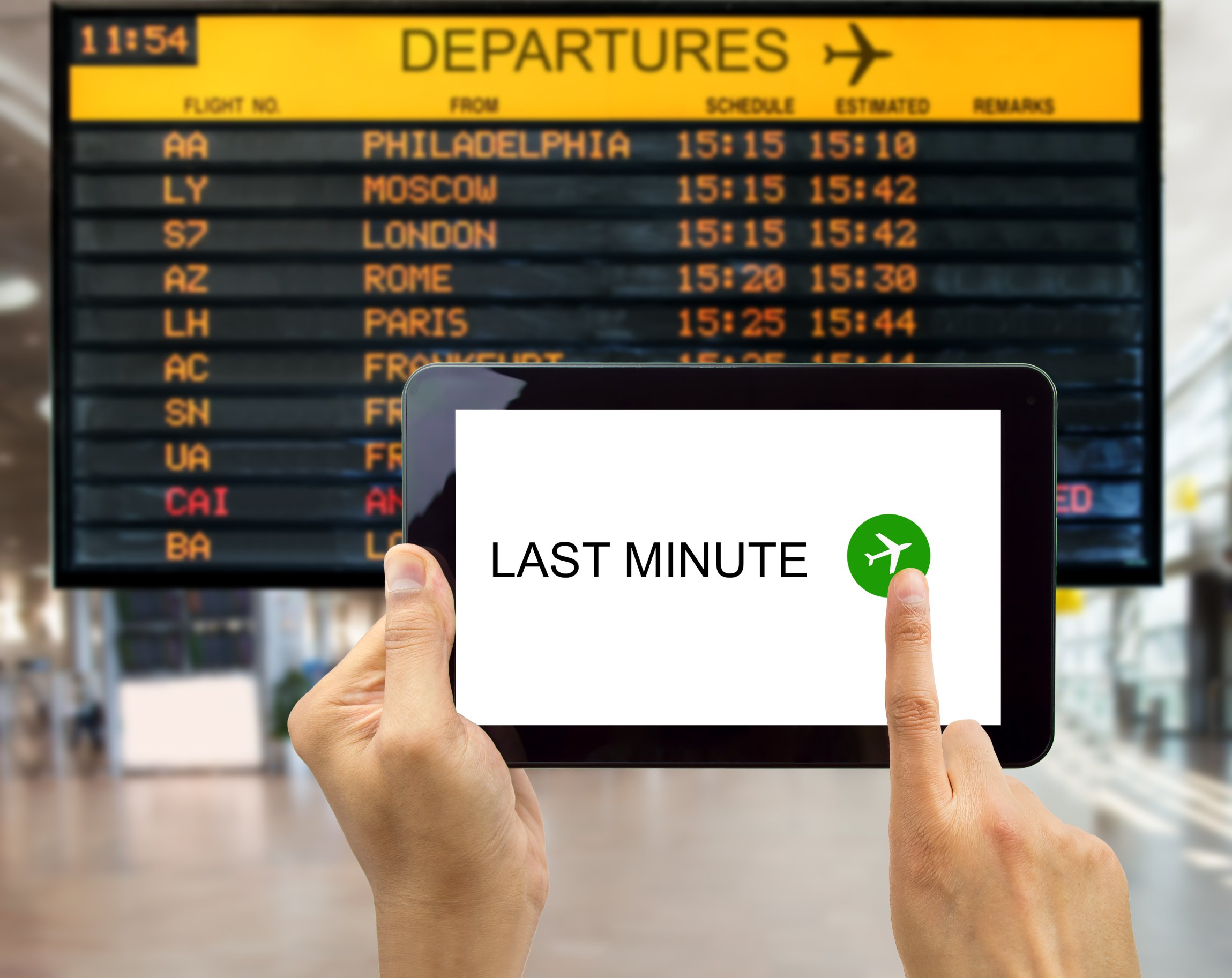 Summer is almost over. So, if you haven't gotten away from the office yet, you only have a few weeks left. However, booking your vacation doesn't need to be stressful since there are sites that can save you time and money. If you need one last trip before the end of summer, here are 15 sites where you can find the best last-minute travel deals
The 15 Best Sites for Last-Minute Travel Deals
THE BEST TRAVEL SITES FOR ONE-STOP SHOPPING
1. PRICELINE EXPRESS DEALS
When I book a vacation, location and cost are important factors. With Priceline's map function, it makes it easy to find what you need. Once you enter the map view, you can browse the pop-up information for each option which includes the price, star rating, and customer rating. I also really like the site's ability to customize your travel package.
However, it's Priceline's Express Deals that make it one of the best sites for flexible travelers and last-minute travel deals. Guests regularly save up to 60% on accommodations and other travel expenses.
2. TRAVELOCITY
Travelocity is among the first places I look for travel deals since you can book everything in one place. Rather than spending hours researching rates, I can find and compare flights, accommodations, car rentals, cruises, tours, and excursions through the site. They partner with travel operators worldwide and search for deals from over 400 airlines and a million properties around the globe.
When you register for a free account, members get a 10% discount from selected hotels. And, they offer guaranteed price matching. If you find a lower rate, even 24 hours after booking.
3. TRAVELZOO
Travelzoo has quickly become one of my favorite travel sites because they offer some of the best rates. They round up the best travel deals from several different sites and post their Top 20 Deals which change from week to week. When you're ready to book, the site links you directly to the provider to purchase.
Thanks to their relationships, Travelzoo often negotiates special, time-limited deals that it only promotes to its members. If you act fast, you may even find refundable deals and great rates on all-inclusive packages. Becoming a member definitely has its perks.
4. TRIPADVISOR
When I started traveling, TripAdvisor was the first stop for recommendations on local attractions and tours. However, it's so much more than a travel guide. It's also a great place to score travel deals.
In addition to the detailed information and reviews, it will also highlight days with the cheapest rates. This will help you determine the best days to travel and which ones to avoid. It also provides extensive filters to limit your search. And when you find a deal, it will tell you exactly how much you are saving.
5. LAST-MINUTE TRAVEL
True to its name, Last-Minute Travel has some of the best last-minute travel deals on accommodations, flights, car rentals, and cruises. When you sign-up and pay the $50 annual membership fee, you will get exclusive access and member-only deals through the Last-Minute Travel Club.
If you choose the option for Undercover Hotels, you can save even more. Rather than choosing the brand, you choose your hotel based on the fare. Then after you complete the booking, they reveal the location. Although there is a bit of a gamble, you will know the general location, the hotel's star rating, and the average customer rating before you commit. And, this option can get you up to 65% off standard rates.
THE BEST SITES FOR FINDING CHEAP FLIGHTS
6. SKYSCANNER
During my years of international travel, Skyscanner has always been and remains my go-to search site for flights. Although it searches for many of the same deals and discounts as other sites, it seems to have a broader search engine and incorporates more airlines than its competitors. However, the Everywhere option has given me some of the best discounts. You can keep it open-ended to search for the cheapest dates. Or, you can see what destinations are the cheapest based on your available dates. Either way, you'll find rock-bottom prices that will save you a ton.
7. KAYAK
When it comes to flights, Kayak remains one of the best search engines, hands-down. They have excellent filters to help you narrow your search to find exactly what you need. Once you've found the right flight, it directs you to book through the airline to ensure you earn your frequent flyer points and avoid the hassle of third-party bookings. However, if you aren't ready to book, you can also set alerts and email notifications of price changes so you won't miss out on any deals.
8. SECRET FLYING
Although I'm relatively new to Secret Flying, I like the idea that there are sites out there looking for pricing errors and flash sales. And it seems like other travelers agree.
According to the site, they can save customers up to 90% on flights. Those who are flexible with dates and destinations will get the best deals. However, it still offers good discounts with stricter search parameters as well.
9. AIRFAREWATCHDOG
Similar to other sites, Airfarewatchdog looks for errors in rates and fares that will save you money. But, they have real, human employees who scout out the best travel deals for you. This ensures that you don't waste your time on scams or outdated information.
It allows you to track rates with alerts. Or, you can use their Weekender option that shows you flight and hotel packages. When you see something you like, follow the link and they take care of the rest.
THE BEST DISCOUNTS ON ACCOMMODATIONS
10. BOOKING.COM
There is a good reason why Booking.com has been another of my travel staples over the last decade. Not only does it show you the cheapest rates and the best last-minute travel deals, but it offers greater flexibility. Even if you book online, many properties offer refundable rates and free cancellations.
And, they have one of the best loyalty programs around. If you use the site to book two stays within two years, you will earn Genius status which gives you an additional 10% discount. If you stay five times in two years, you move up to level 2 which comes with a 15% discount, complimentary breakfast, and free upgrades as well. Few sites can consistently offer these kinds of perks to all their members.
11. HOTELTONIGHT
HotelTonight is another great site for same-day hotel booking anywhere in the world. When hotels don't reach capacity, they will drastically reduce rates to fill the rooms. Those who need last-minute accommodations can save up to 50% on their rooms. But, if you wait for the Daily Drop, you'll get the biggest discounts of the day. The only catch is that you only have 15 minutes to claim the offer. So, if you act fast, you could save a bundle.
THE BEST RATES FOR CRUISES
12. CRUISE.COM
If you're looking for last-minute travel deals on cruises, Cruise.com offers special prices and extras you won't find anywhere else. When you visit the Last-Minute Cruise page, you could find steals at the last minute due to cancellations or staterooms at standard prices. They also include extras like onboard credit, free gratuities, cashback offers, and port-specific deals. So if you're looking to save on your next cruise, register to receive exclusive email offers and discounts.
THE BEST SITES TO SCORE CHEAP TICKETS
13. GROUPON
Groupon has been an important vacation budgeting tool for many years now. The site is well known for its discount offers for attractions, meals, fitness classes, and other beauty services, just to name a few. But, did you know they also have a special section for last-minute deals? And, Groupon Getaways allows you to book directly through travel agents who offer full packages at huge discounts. It's an easy solution for first-time travelers and those who don't have the time to plan a budget-friendly vacation.
14. GATE 1 TRAVEL
Although I'm a self-proclaimed budget queen, the cost of admission and attractions is always more than I expect. The one-stop-shop sites are great, but you can also find discounted tickets through sites like Gate 1 Travel. They promote tours for small and large groups on every continent. And, they have packages for every travel budget.
There is also a dedicated page for special offers. You'll find flash sales, featured destinations that offer extra savings, and some of the best last-minute travel deals. And if you refer a friend, you'll get $50 towards your next booking.
15. TOUR RADAR
Last but not least Tour Radar gives travelers another place to shop and compare prices between multiple tour operators. This online travel agency has a huge database that includes more than 40,000 tour options and packages from other discount sites like Trafalgar, Intrepid, and G Adventures. And, they offer a price match guarantee since it's hard to beat their last-minute deals and buy-one-get-one offers.
READ MORE
Jenny Smedra is an avid world traveler, ESL teacher, former archaeologist, and freelance writer. Choosing a life abroad had strengthened her commitment to finding ways to bring people together across language and cultural barriers. While most of her time is dedicated to either working with children, she also enjoys good friends, good food, and new adventures.