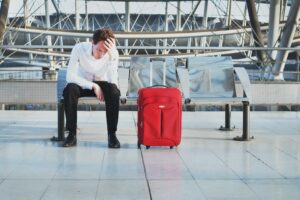 As the snow continues to fall and the days of subzero temperatures drag on, I miss the sunshine and the heat. As a summer baby, I have never enjoyed cold weather. So, I always look forward to traveling to warmer climates in the winter months. However, the holidays make it difficult to find affordable tickets this time of year. The good news is that after years of both domestic and international travel, I have learned the most expensive times to buy airline tickets. Knowing when not to travel is just as important, if not more so, than knowing where to find cheap tickets. Here are a few pointers to help you find more affordable airfare this year.
Where to Buy Airline Tickets
The first thing every budget traveler needs is a reliable search engine that will let you sort through dates and destinations. When traveling internationally, my go-to site is Skyscanner. I've used it for years to find the cheapest regional and global carriers. It has easy-to-use features that allow you to compare hundreds of rates or search for destinations based on your travel window. I also found the currency exchange feature helpful when showing rates.
However, since we are saving for a European excursion next year, I'm more interested in domestic flights for our next trip. Google Flights has become my most frequently visited booking site these days. When compared with the competition, it offers the most current rates with a similar reach in search results. And, it's faster than the rest. Plus, it will even tell you whether rates are higher or lower than average. I also appreciate the calendar view and the greater variety of tools to help me find the best deals.
While it is safe to book directly through these search engines, I will always caution travelers to book directly through the carrier. Third-party bookings have stricter cancellation policies and are more difficult to change if anything happens. Although they are more convenient, I prefer to leave the middleman out of my reservations.
The Most Expensive Times to Buy Airline Tickets
Once you know where to book, the next question is when to book. Knowing the most expensive times to buy airline tickets, and actively avoiding them, will save you a bundle.
Seasons
Every industry experiences ebb and flow, and the travel industry is no different. Although peak seasons change depending on where you are, it is defined by an increased number of travelers. During these intervals, you will see rate increases due to higher demand. However, prices will skyrocket in the summer months when kids are out of school and the days before and after civic and religious holidays.
If you are working within a budget, try to plan around the "shoulder season." This is industry slang for the transition period between the peak and off seasons when prices drop. These periods usually coincide with when students are starting or finishing classes. Since there is less demand for seats, you should be able to find lower prices.
Days
You should also be aware of which days most people prefer to travel. Mondays and Fridays are the worst days to fly. These flights are more expensive since there are more business travelers trying to make it home for the weekend.
And with more travelers, there also tend to be more delays on Friday than any other day of the week. Nearly a third of all Friday flights take off later than scheduled which could complicate your plans if you have a connecting flight.
Times
Seasoned travelers also know that early-morning and late-night flights usually have better rates. This is because most people prefer to travel in the middle of the day. The peak times with the highest prices are from 10 a.m to 7 p.m. So if you aren't willing to wake up before dawn or take the red-eye, you can expect to pay more for your tickets.
Holidays
While this should seem obvious, you never want to travel the day before a holiday or an event. Not only are there more people to contend with, but the airfare will be much more expensive as well.
The single worst weekend to travel in the U.S. is Thanksgiving. However, Super Bowl weekend was a close second. Chinese New Year is also extremely busy for international travel. And since the holidays fall during the colder months, you have increased chances of weather delays as well. But if you must travel at these times of the year, it's wise to take more time before or after to find better prices on airline tickets.
The Best Times to Travel
Unfortunately, there are no secret sites or promo codes that will magically save you money on your airfare. And as much as you hate hearing it on customer service calls, prices really are based on availability.
So if you want to find the best deals, you will need to look at times when fewer people want to travel. In general, ticket prices are usually lower on Wednesdays and Thursdays. However, you should also pay attention to the times since you may be able to find cheaper flights that are earlier or later that will still fit a tight schedule. Just be aware that if you choose the early and later flights, this could mean longer layovers.
As a final note, here are a few more traveler's tips to help you avoid the most expensive airline tickets and find better rates:
Be flexible with your schedule. If you can adjust the day you travel you may find better rates or be able to take advantage of last-minute deals.
Set alerts and notifications. Those who aren't ready to commit to plane tickets can set alerts or notifications for specific flights and destinations. This will tell you when rates drop or the airline is offering flash deals.
Check back regularly. Prices can vary from day to day, so it's a good idea to check back often to see the most current rates. And since airlines evaluate flights and adjust rates about 45-55 days before departure, this may be the ideal time to get better prices.
What's your best budget travel secret? Share your thoughts in the comments below!
Read More
Jenny Smedra is an avid world traveler, ESL teacher, former archaeologist, and freelance writer. Choosing a life abroad had strengthened her commitment to finding ways to bring people together across language and cultural barriers. While most of her time is dedicated to either working with children, she also enjoys good friends, good food, and new adventures.