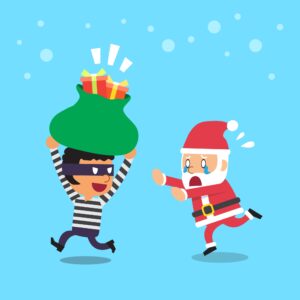 When Thanksgiving is over, many Americans start preparing for the sales event of the season. If you're like me, then you have already started shopping the Black Friday and Cyber Monday deals to save money on holiday gifts. But rather than fighting the crowds, many prefer to buy everything online and have the items sent directly to their homes. While it is much more convenient, it has presented a new problem: porch pirates. Here's what you need to know to prevent pirates from ruining your holidays.
What Are Porch Pirates?
The term "porch pirate" refers to opportunistic thieves who steal packages that have been left at people's homes. And with the increase in e-commerce, it is becoming a bigger problem every year. Just yesterday, my neighbor contacted me because she had yet another package go missing.
It seems she isn't alone; last year 64% of Americans said they had packages stolen from their doorstep. And according to a recent Safewise survey, about 260 million packages vanished from people's porches over the last 12 months. UPS has also confirmed the increasing frequency, reporting that 1.7 million packages disappear every day, adding up to more the $25 million in lost or stolen items.
While merchants and delivery services usually offer some compensation through their claims process, it doesn't account for your time or the fact that the items you ordered may not be here in time for the holidays.
Why Would People Do This?
It's hard to say the exact reason why anyone would resort to stealing, but sadly, it is becoming more problematic every year. The simplest reason why porch pirates steal packages is that it's easy and they usually get away with it.
Some see it as a victimless crime since the items will usually be replaced and insurance foots the bill. For others, it's because the opportunity presented itself. Although it may not be what they set out to do, they can't resist the temptation to take packages. There is the potential for a big payoff if they find expensive electronics, jewelry, or other small, portable items they can quickly resell.
As the economy declines and more people struggle, it becomes easier to rationalize illegal behavior and taking what isn't yours.
How Can You Prevent Porch Pirates from Ruining the Holidays?
As frustrating as porch pirates are, it's best that you don't take things into your own hands. Instead, there are some preventative measures you can take to protect your packages and prevent porch pirates from ruining the holidays.
1. Upgrade your security system.
The best way to prevent porch pirates from stealing your packages is by installing a security system. Oftentimes, just having the cameras in place deters potential criminals from stealing items off your stoop. But, you can also add a doorbell camera to receive notifications of activity, and even speak to people who approach your front door.
Setting up motion detector lights and cameras will also let you monitor your home when you are away. With full camera coverage, you will be able to confirm your deliveries. However, you can also watch for suspicious activity and provide video evidence to the police if your items are stolen.
2. Track your packages.
After you make a purchase, the merchant typically includes a tracking number when they ship the item. I set notifications and track delivery so I know when it will arrive and can plan accordingly. The system will send you alerts, updates, and photos to confirm delivery.
But, if you are worried that your package will disappear before you get home, you can require a signature on delivery. That way, your items won't be left on your doorstep.
3. Add delivery instructions.
Another way to avoid porch pirates is by including delivery instructions. When you place an order, some merchants include a text field where you can input the details. Then, they will print the instructions on the label to let the delivery person know where to leave it. It's an easy way to find a discreet place for deliveries to help secure your packages.
4. Talk to your mail carrier.
In that same vein of thought, you can also talk to your mail carrier. If there's a chance it was a mistake, someone else may have received your package. Or, there could be an error on the shipping label. Mistakes happen.
But if you bring it to their attention, you may uncover a bigger problem in the neighborhood and save others a lot of trouble. If your delivery people know you have had problems with porch pirates, arrange a place for them to leave your items when you aren't home.
5. Network with your neighbors.
Remember that if you are having this problem, chances are that your neighbors are as well. Ask around to see if your packages are being delivered to the wrong address or if others have stolen packages as well. If your neighborhood is on alert, you can watch for suspicious behavior or vehicles, and keep an eye on each other's homes for added security.
6. Contact the merchant and delivery service.
Since it has become so common, the merchant will usually have theft insurance. Chances are that they have probably already dealt with this issue. While there are time limitations, vendors often replace stolen items if you report them. Many carriers also offer compensation or reimbursement through their claims process.
7. Purchase homeowners or renters insurance.
Homeowners' or renters' insurance is a good idea for several reasons, including porch pirates. Your insurance will typically cover losses due to theft. So, any stolen packages should be included under your personal property coverage. But check the details of your policy's coverage. It may have limits, so you may not receive the full amount if they stole expensive items or cash.
Sure-Fire Methods to Protect Against Theft
The only surefire way to avoid porch pirates is to have your packages delivered to a location where someone can receive them. Some people have them sent to the office. Others pay for a receiving service or rent a locker for a small monthly fee. But if all else fails, you can always pick them up in person. Although it may be inconvenient, it is the most secure option available.
Read More:
Jenny Smedra is an avid world traveler, ESL teacher, former archaeologist, and freelance writer. Choosing a life abroad had strengthened her commitment to finding ways to bring people together across language and cultural barriers. While most of her time is dedicated to either working with children, she also enjoys good friends, good food, and new adventures.