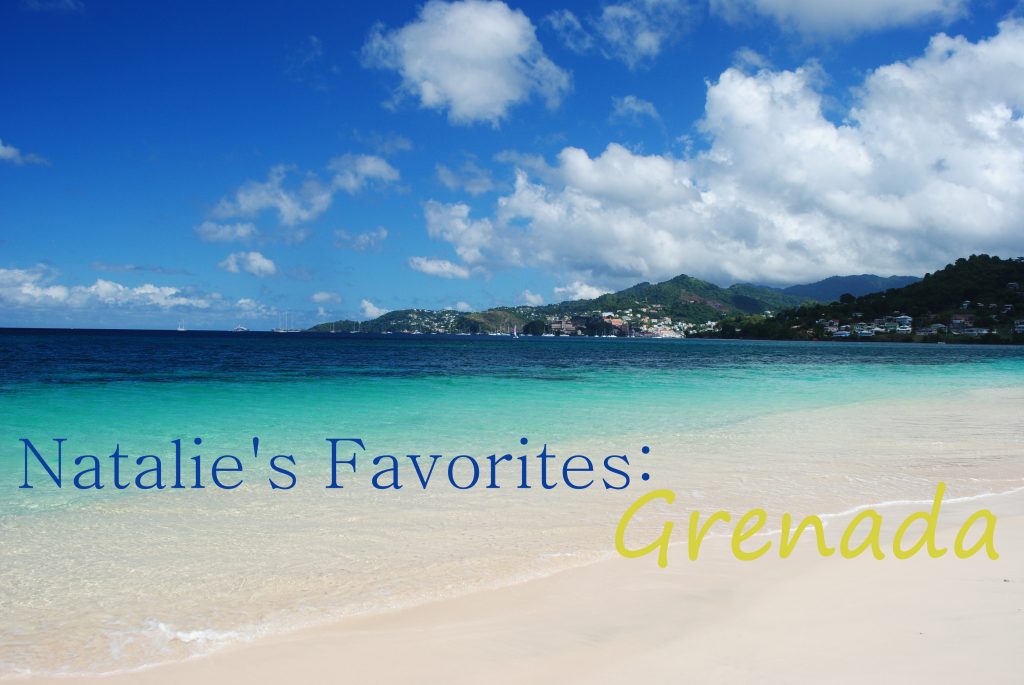 If you've been following our blog for a while you might know that Cat and I met on a tiny island in the Caribbean. Although I write more about my recent move to New York, I lived in Grenada just shy of three years. I really loved it there, and I'll miss it more and more as the weather gets colder.
I  have the unique perspective of someone who has not just visited a tropical destination others only dream of, I have lived their long term. I feel pretty well equipped to tell you about the spice isle and all she offers. I've experienced more in Grenada than a person can do in a vacation or two, but that's just all the more reason for you to complete this list in multiple trips. Here are my favorite things to do in Grenada:
Get up close and personal with nature
I've been an animal lover since I was a child. You can make the case for zoos being sad places, but I still love watching and interacting with wild animals in zoos. I can't quite explain my fascination, but if you appreciate nature at all, you'll be amazed by Grenada. Primates are some of my favorite animals because of how human-like they are. If you're lucky, you can feed bananas (don't peel them) to mona monkeys in Grand Etang rainforest. Sure, they're not totally wild if you can feed them, but they don't return to cages at night or anything. They're incredible to see up close and beautiful to watch climb through the trees.
Even more memorable than getting up close and personal with monkeys was my experience with the dinosaurs of the sea. Grenada is home to a large nesting site for leatherback turtles. If you aren't familiar with them, the average leatherback length is six to seven feet with a weight of 550 to 1,540 lbs! They're ginormous! Leatherback turtles are protected during nesting season, but you can go see them if accompanied by SPECTO, Grenada's leatherback conservation group. Seeing them involves traveling north under the cover of night to watch the turtles make their way onto the shore in a painstaking process of digging, laying eggs, covering their tracks, and heading back to the ocean. It's like watching a giant boulder emerge from the sea, unaffected by the crashing waves. It's a truly unique experience that I'll never forget. Ask your hotel front desk about arranging a trip between April and July, or email SPECTO directly.
If you prefer to be in the water, Grenada has numerous locations for viewing sea life while snorkeling or SCUBA diving. Perhaps the coolest fish you can see is the nurse shark. Nurse sharks lay low during the day and have homesteads they return to. The dive shops know where the nurse sharks hang out and will take you to a specific reef to see them with your open water certification. My husband loved being face to face with the sharks as he peered over the ledge into their hidey hole.
Memorize the color of the water
No really. Caribbean water is something you have to see to believe. On a clear day you'll see the most dazzling colors of blue and teal water you can imagine. I've seen ocean water in many places, but I've never seen more crystal clear and blue water than in the Caribbean. The colors are what makes your vacation photos and what you'll daydream about when you return to the daily grind.
Naturally, some of my favorite things to do in Grenada revolve around those waters. Despite my pale complexion I do love the beach bum lifestyle. Some of my best naps (and consequently, worst sunburns) have been on Grenada's shores. You can't go wrong with any of the popular beaches, but Grenada is known for Grand Anse Beach because it has been on so many top beaches in the world lists. I'd also recommend Magazine Beach and BBC (Morne Rouge) Beach.
If you're lucky, your trip will coincide with a dinghy concert. A dinghy concert is held on a floating barge while spectators arrive by boat. Most people come from the yacht and sailing community, so the concert crowd is made up of a network of dinghies with friendly people sharing food and drinks among friends. There is also seating and a bar on the barge for people without boats. Join the water taxi coming from Le Phare Bleu to grab a spot on the barge and a rum punch. The music is always great, and you can't beat the energy, atmosphere, and scenery.
Get off the beaten path (or not)
Grenada offers a lot for the outdoor enthusiast. In fact, most things worth experiencing involve the great outdoors. Take hashing for example. Upon explaining the concept to my father-in-law, he concluded that it was, "a muddy romp through the woods to get drunk." While drinking isn't required of the hasher, there's always a post-hash party with plenty of local beer to be had if you choose. The hash is like a hike, only not on a well traveled hiking trail. Each week a designated hare sets the trail for that weekend's hash.  It's in a different part of the island every time, so if you're lucky enough to be there multiple weekends, you're almost guaranteed very different breathtaking views. Many loyal hashers show up each week, but there are always newbies. The hash master will explain the rules before each hash, and any level of hiking experience is welcome. Some people run and some people walk, so you'll never be alone. The local food available after the hash is perfect for refueling, and the camaraderie among the hashers is awesome. I think hashing is, hands down, one of the best ways to see Grenada and have some good clean dirty fun. Check the Grenada Hash House Harriers' website and Facebook page for the Saturday meeting location.
If trailed hiking is more your thing, fear not. Some of Grenada's best hiking trails end at refreshing waterfalls. Any guide book or hotel front desk would point you in the right direction, but some of my favorites are Seven Sisters in Grand Etang rainforest and Mt. Carmel falls. The Seven Sisters hike begins with a walk through farm land where you'll see natural vegetation and ends at a set of waterfalls to cool off in. Locals who know the falls well will jump off the falls, which is impressive to see. They say you can leave the well traveled trail at the first falls and continue back to find more of the sisters, but I'd suggest a guide or a friend who has done it before. Mt. Carmel is easier to hike to and ends at a tall waterfall you can also swim in. There is a smaller set of falls off the main trail that you can actually slide down into a large pool of water. Again, I'd have a guide or someone with experience for that part.
Visit the smaller sister islands
Grenada is actually made up of three inhabited islands, the other two being Carriacou and Petite Martinique. They're both a little different than the main island, and worth checking out if you can. Carriacou is more relaxed and slowed down than Grenada with Petite Martinique being even more so. Paradise Beach and Sandy Island at Carriacou have more of those incredibly clear, but turquoise waters with far fewer people on the beach. Sandy Island is a small bar of sand with its own ecosystem of fish in the middle of it. It's bizarre and totally cool! For Carriacou's size, there's surprisingly good food there. Eat anything at Bogles Round House, smoked fish at Slipway Restaurant, and the lemon and coconut tart at Kayak Kafe and Juice Bar. I've been known to have people bring lemon tart from Carriacou to the main island for me if that tells you anything.
Petite Martinique has about 1000 residents. While I haven't explored PM near as much I have the other two islands, I loved the sign just off the dock that points people to the main road, a phone, a supermarket, a guest house, etc. This is a place to really get away!
You can take a boat or fly to Carriacou. The Osprey is the cheaper option with daily service, but it can be rough if you're prone to seasickness. Flying with SVG Air was by far my favorite way to go, especially if your time in Carriacou won't be long. The trip felt like only twenty minutes, and it was an experience all on its own. If small planes aren't a problem for you, bring your camera for unforgettable views since the plane doesn't fly that high. You can take the Osprey to PM or hire a local with a boat in Carriacou.
Eat and drink like a local
I could give you a list of my favorite places to eat and recommended foods to try, but that deserves a post on its own. Take advantage of the fresh produce, and taste the African and Indian influence in the food. If you enjoy cooking, go to a cooking class at True Blue Bay resort. The women who run it are hilarious and have a great rapport. They always make something delicious to introduce you to the local cuisine.
No matter how you feel about it, rum is a part of life in Grenada. There are three rum distilleries in some form or fashion on the island. The most unique distillery to visit is River Antoine in the north. Rum is still made the old fashioned way with a giant water wheel to drive the sugar cane crushing. If tasting is more your style, visit the bar in Fort Matthew. It truly is a bar in an 18th century fort. The fort has a great deal of history to explore and boasts expansive views of St. George's.
If you want a delicious local meal that really showcases Grenadian cuisine, travel north to Belmont Estate and have lunch. Their food always impressed me. Take a couple hours to explore the estate and learn about cocoa production. The tour is worth the small cost to see how chocolate is made and learn about everything that grows on the estate. Bring an insulated bag with ice packs to travel back with chocolate bars or truffles and delicious goat cheese.
If I haven't convinced you yet, maybe you're more the visual type. Try this:
Did anything pique your interest about Grenada?