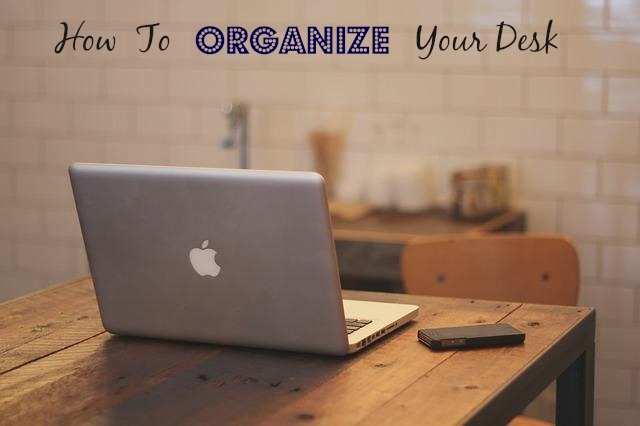 My desk is the first thing you see when you walk in my apartment door. It's long, narrow, and a crisp white color so everything is reflected off of its surface.
It tends to get cluttered easily. Since I'm in charge of paying bills, running three blogs, and taking care of things like thank you notes, it's easy for my desk to turn into a war zone instead of a place for simplicity and productivity.
Over time, I've learned a few tricks to keeping the surface clean (so I actually sit down at it and use it!) as well as keeping important papers organized. Here they are below, and I hope they help you too!
1. Start a Love Affair With File Folders
There are some things I don't want to put in the drawers of the desk. Once they go there, it's out of sight out of mind and there's no telling when I'll get to them. Still, I don't really want the desk to be piled high with bills or other important paperwork because that doesn't look nearly as nice. So, I've started using file folders. Luckily, file folders have come quite a long way. They can be fun and brightly colored so they actually jazz up your desk instead of making it look like a boring corporate office. I put the most pertinent items in these folders, things I have to get to right away, and they stay on the top of my desk – still out of sight but not out of mind.
2. Use Inexpensive Organizers
Natalie mentioned earlier this week how she reuses and recycles things around her house. I think we both must have gotten accustomed to this when we lived in Grenada, because I do the exact same thing. You can cut off the bottoms of cereal boxes to create a really nice drawer dividers. I use mason jars and things I picked up at thrift stores to corral my pens and headphones. Basically, while I'd love to drop a few hundred dollars at the Container Store for pretty organization, it's just not practical in my life right now.
3. Make Reference Material Accessible
When I work, I often have to look up a few things. I do most of this online, but sometimes, I'm looking for a great quote that I want to use from one of my books. So, on my desk, I have about 10 personal finance books that I use regularly and recommend to others. I also have three books on my desk that I'm supposed to review in the next few weeks so they are sitting there looking at me, imploring me to get to work on them.
4. Keep it Homey
It wouldn't be an organized desk that was also homey unless I had pictures of my kiddos. I have a really pretty, large picture from their professional photo session on my desk, and it reminds me to keep going even when I really don't want to.
Ultimately having an organized desk takes a little time, but as long as you put everything back where it goes, it should definitely be a place where you enjoy working.
Where do you spend most of your time working? I split my time between my desk and my nook at our local Starbucks…