What does punctuation have to do with today's post?  Luckily for you I'm not writing SAT test questions or talking about technical grammar.  But seriously, I love this meme, and I actually think it's applicable (Mostly. Sort of. Okay, it's a stretch.) to what I'm talking about.  I'm talking about organizing schedules of multiple family members effectively and how doing so can save your life a lot of frustration.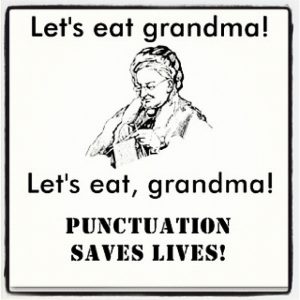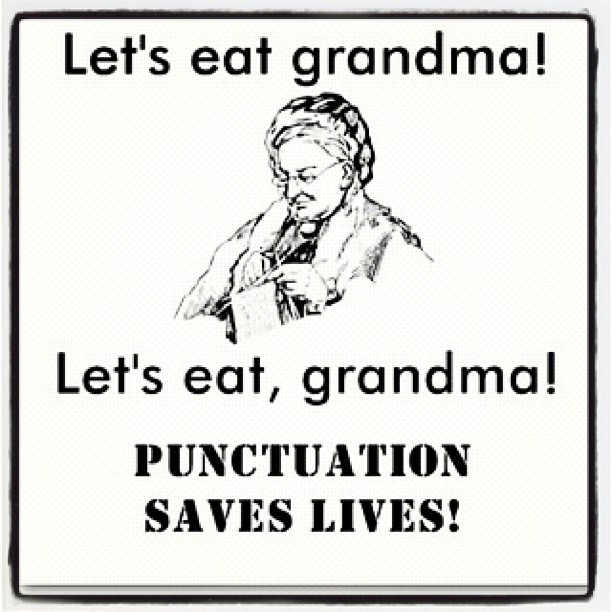 If it weren't for my calendar and to do lists, I'm not sure I'd know what was going on half the time.  I rely so heavily on both of them.  When I feel like I've got too much information swirling around in my brain, my calendar and to do lists actually bring me back to earth.  I can sort of let my responsibilities go from my head because I know I've got them safely filed away where they won't be forgotten.  It truly clears my mind to get my thoughts and plans organized on digital paper so I can focus on one thing at a time.  Can you relate?
If you have someone in your life with their own plans that sometimes impact yours, you know things can get complicated without a clear channel of communication.  For example, if you have a significant other who works or goes to school, their schedule might sometimes dictate the timing of your plans.  Maybe you share a vehicle or you once made plans to meet another couple when you mistakenly thought your significant other was free.  It really sucks when each person has their own plan in their head that unknowingly conflicts with the other person's.  Sometimes I get so wrapped up in what I have to do that I forget to tell my husband when I have extra meetings or an unusually scheduled event.  It's an innocent mistake to forget to fill the other person in, but it can sometimes lead to real complications.  If organizing schedules was easy, we'd never have these hiccups.
That is precisely why my calendar is so important to me.  I need it to function; my husband does not.  But I need his calendar to know when he'll be home, what nights to plan on eating leftovers, and when we need to talk about how we're each getting to places on time.  We do share a car, so that's something that routinely needs to be coordinated with specific times.
We could keep a traditional wall calendar at home, but I find it best to coordinate our schedules with a calendar online.  Since we're both gmail users, I love Google Calendar for its ability to let us maintain separate calendars that can be shared with one another.  I can view our calendars from my email or across multiple devices when I'm out and about.  The ability to add or edit something on the fly is invaluable to me, and I couldn't do that if we kept the calendar at home.  I can also view one calendar at a time or have them pulled up together to see where the mutual free time is or to monitor for potential conflicts.  You can even maintain multiple calendars if you prefer to have one for work and one for personal events or one shared calendar and one private.  Color code any of them for easy reference and pick whatever default view you prefer: day, week, month, etc.  Plus, I think the user interface is nice.  Practical and easy to use?  Yes, please!
Something as simple as writing your plans out in a public space can make your life easier and open up communication with someone else.  When I see that my husband's had a heck of a day bouncing from class to meeting to class, I'm not concerned if I don't hear from him or if he's going to be home late.  There have even been times when one of us put something in the calendar and then forgot about it, only to have the other person remind us in the nick of time.  I think our shared calendars have saved us on numerous occasions, and they definitely make our lives easier.
What ways do you employ to manage your life and keep others in the loop?