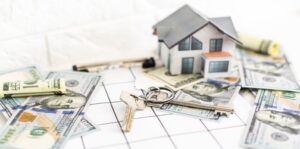 Any homeowner will tell you that home repairs and renovations are expensive. And since the home improvement trade is still rebounding from Covid-19, prices are even higher. As my mom is finding out, the costs have continued to rise and may get even worse if economic conditions persist. We are now undertaking several large projects and reeling from the staggering expenses. So, we are looking for ways to keep the costs down. If you are beginning a large renovation project and need to reduce costs, then you should know where you can find discounts on home renovation supplies.
Inflated Construction and Home Renovation Costs
With the ongoing supply chain issues and labor shortages, it is taking much longer for companies in the home improvement trade to recover after the pandemic. Factory shutdowns and transportation issues had a rippling effect across the industry. Inflation has also significantly affected every product category, including building supplies. This has caused home renovation costs to rise even further.
Based on the comparison of the Consumer Price Index from 2021 and 2022, inflation rose 7.9% which is the highest increase in 40 years. The home improvement industry has been hit especially hard with the cost of building materials more than 31% higher than they were in 2020. So if you can't avoid a large home improvement project, you should definitely look for discounts on your home renovations.
7 Ways to Find Discounts on Home Renovation Projects
The cost of building materials is high, but you can still get good deals. Although you can find sales at most national home improvement retailers throughout the year, here are 7 tips to help you find even deeper discounts.
1. Rebates
Home improvement stores seem to have sales all the time. In fact, Menards regularly runs their 11% off rebate for everything in the store. So, make sure you complete them and send them in after each shopping trip. If you are timely about it, you may even be able to use the rebates for other expenses on the same project.
In addition to the store's discounts, you should also pay attention to other rebates. Some items may offer a manufacturer's rebate that can save you even more.
2. Coupons at Check-Out
Many stores like Home Depot and Lowe's are willing to offer discounts at the checkout. I usually check online for discounts because they may have coupons that were not well advertised. So, don't be afraid to ask the cashier if they have any additional sales going on…it might pay off.
3. Outlet and Close-out Stores
Another option for saving money is to shop at outlets or close-out stores where you'll find discontinued items or inventory that has been sitting on the shelves for a while. When this happens, suppliers slash prices to make room for new stock.
The quality of materials and price usually give you a full range of options. Sometimes, you can get top-of-the-line materials for pennies on the dollar. However, be aware that supplies are limited and it could cause problems if you need to match material down the line.
4. Holiday Sales
Every bargain hunter knows that holidays are a good time to make large purchases. You should also know that Black Friday is a high holy day for retailers, including home improvement stores. In the weeks leading up to the sales events, Home Depot, Lowe's, and Menards all run massive holiday sales campaigns with extreme discounts. And, they often extend the sales beyond Black Friday. And if you compare the numbers, Cyber Monday sales have surpassed Black Friday in the last few years. Many retailers depend on these deals to boost sales, but you can still reap the discounts on home renovation projects.
5. Second-Hand Discounts
Depending on how tight your budget is, you can always look for second-hand items to keep costs down. People often donate unwanted furniture and home improvement supplies to places like Habitat for Humanity's ReStore. You can find some quality pieces at great prices, including doors, light fixtures, and landscaping supplies.
Many people also sell household items and supplies online through Facebook Marketplace and Craigslist. You would be surprised how cheaply some people price things, or simply give them away, out of convenience. It takes time to sort through all the listings, but finding a great deal makes it all worth it. If you act fast, you could end up with something next-to-new for next to nothing.
6. Discounts for Payment Method
Some contractors may also offer a small discount if you are willing to pay by cash or check. Having the money to purchase supplies and do payroll makes the job easier for them. However, you should never pay the full cost upfront. If anything goes wrong, you would lose leverage in the situation. Setting up milestones and paying a percentage as the project progresses will protect your investment and ensure the contractor tries to stick to the schedule as well.
7. Compare Prices
The last tip is a fundamental shopping rule and should be common sense. Always compare prices and get more than one estimate. You want to be certain that you get a competitive price. If a quote is too high or too low, it could be cause for suspicion.
It is also a good idea to compare similar options between brands and retailers. Sometimes you find very similar products with very different price tags.
Final Thoughts
No matter what you are shopping for, it's always good to look for deals and discounts on home renovation projects. But if you find a deal that seems like it is too good to be true, then it probably is. Therefore, you need to do your research on the products you buy and the people you are working with. When you spend this much money, you should know what you are getting for the added expense. Whether you spare no expense or purchase cheap materials, the final product will reflect that you really do get what you pay for.
Read More
Jenny Smedra is an avid world traveler, ESL teacher, former archaeologist, and freelance writer. Choosing a life abroad had strengthened her commitment to finding ways to bring people together across language and cultural barriers. While most of her time is dedicated to either working with children, she also enjoys good friends, good food, and new adventures.