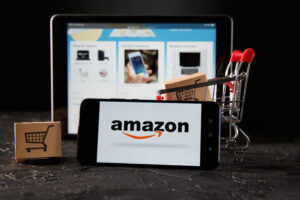 The transition to e-commerce and the ability to shop from the comfort of home has completely transformed the retail industry. And it seems like online shopping is here to stay. Over the last few years, online sales have risen and now account for 15% of all revenue in the industry. However, this convenience comes at a price. Here are 5 financial problems of shopping on Amazon that retailers aren't talking about.
5 Financial Problems of Shopping on Amazon
You'll be hard-pressed to find anyone nowadays who doesn't shop online or have an Amazon account. But, every service has its limits, and convenience comes with a cost. Here are a few of the financial problems of shopping on Amazon that you should be aware of before checking out.
1. Amazon doesn't always have the best deals.
Without a doubt, Amazon makes online shopping easy. Nowadays, you can find anything you need online with a quick search and the click of a button. There are many reasons why it's the most popular online retailer. With services in over 100 countries around the world, you can find exactly what you need in minutes.
But contrary to what many people think, they do not always have the best deals. Although you can quickly compare different vendors, it doesn't guarantee the lowest prices. And, Amazon doesn't have the feature to provide alerts when the price drops. So if you are looking for the best deals, you may be better served through other retail sites.
2. It's difficult to know exactly what you are buying.
One of the greatest drawbacks of shopping online is that you never really know what you are buying. I can't tell you how many times I have been disappointed with the items. Several shipments have either been wrong or failed to live up to expectations. The hard truth is that you have a better chance of getting exactly what you want when you shop at brick-and-mortar retailers or buy from authorized sellers.
When you shop online, you can't inspect the item or try it on before you buy. In person, you to check the quality of the product and make sure it's the right size. Since so many people sell fake products that look like the real thing, it can also be difficult to tell which items are genuine.
Another thing to consider is that reviews can be misleading. While customer reviews are an important factor in my decision-making process, you have to take them with a grain of salt. Keep in mind that some companies pay people to leave fake reviews. Therefore, you can't trust everything you read online. It's a good idea to look at sources outside of Amazon for reviews or watch videos of people testing the items for themselves.
Even though it can be difficult to know what you are buying, that doesn't mean you have to give up online shopping altogether. You just need to protect yourself from falling victim to scammers. Do your research, learn how to spot fakes, and ensure you are buying from a reputable vendor.
3. Returns can be a hassle.
Returns are another issue many shoppers don't want to deal with. When an item isn't what you expected or doesn't work for your needs, you can usually return it. But, this can be a hassle if you have to maintain a busy schedule. Even with several convenient drop-off spots around the city, you may not have time to send it back. And if it isn't what you ordered, you could lose money if you miss your window of opportunity to return it.
It's also important to note that returns aren't always an option. In this case, you would be stuck eating the cost. So, be sure that you read and understand the return policy before confirming your online purchases.
4. You may have more convenient options.
Let me clarify that I love the ease and speed of having items shipped to my house within two days, especially during hectic workweeks. It saves me the time and trouble of having to visit a store to get what I need. But sometimes, it isn't the most convenient option.
Certain items, especially when they ship from other countries, can take weeks or months to arrive. Depending on what you ordered, you may have better luck with local vendors. And if you have a time-sensitive order, it may be faster and more cost-effective to get it from a store near you.
5. Their premium membership isn't cheap.
Nothing comes for free, including club membership. But when you look at your choices of paid membership, Amazon Prime is rather expensive in comparison to other retailers. At $139 a year, it is more than double the price of other discount buying clubs like Costco and Sam's Club.
However, it's important to note that it does come with some added perks you won't get anywhere else. For example, you get free 2-day shipping on eligible products. And, it comes with access to Prime Video and Prime Music. If you use these services regularly, it may be well worth the price. But if you are on a budget, this is a serious sticking point and a major financial problem of shopping on Amazon.
Is Shopping on Amazon Worth It?
In the end, I think it's fair to say that the convenience outweighs the problems when shopping on Amazon. But knowing these drawbacks will make you a smarter consumer and help you save money. Not only can it help you find the best deals, but it will also prevent you from being taken advantage of.
As with all your online purchases, you should do your research and collect as much information before making a decision. And always check the fine print of your return policy. In a worst-case scenario, the standard return policy can insure you against financial loss and improve your chances of getting what you need.
Read More
Jenny Smedra is an avid world traveler, ESL teacher, former archaeologist, and freelance writer. Choosing a life abroad had strengthened her commitment to finding ways to bring people together across language and cultural barriers. While most of her time is dedicated to either working with children, she also enjoys good friends, good food, and new adventures.