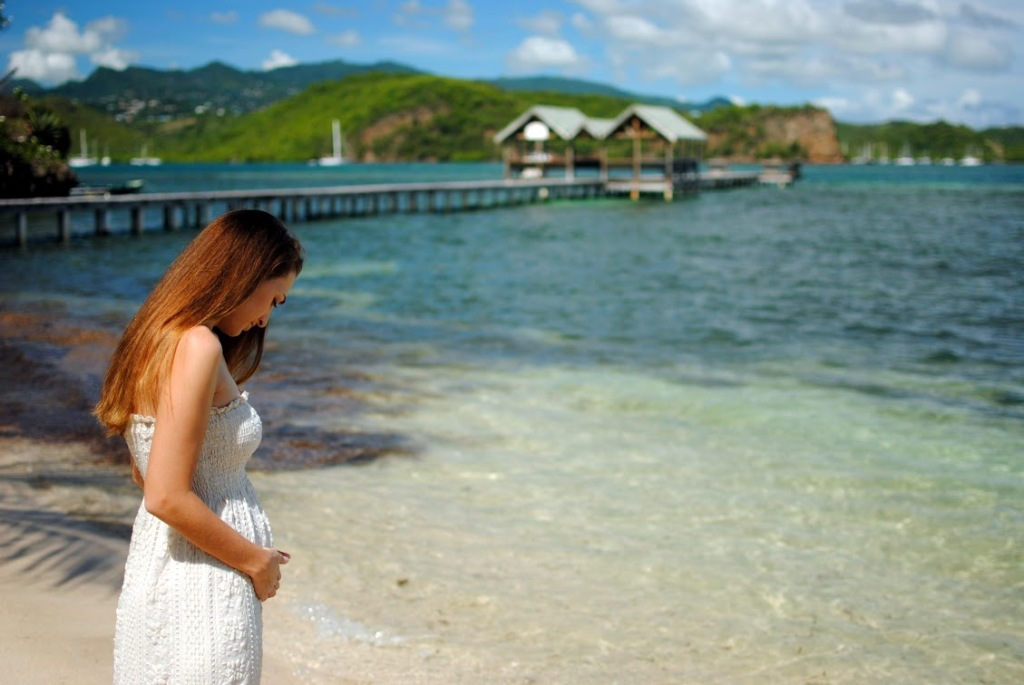 I recently received an e-mail from a reader who asked if I enjoyed living abroad. I responded and told him that I did. It was a complete life changing experience to live in Grenada, West Indies for three years. I will forever be changed because of my time there.
I learned so much about myself, what I was capable of, how much I could bend, and of course how much I could break.




When many people hear that my husband and I lived in the Caribbean, they are instantly flooded with images of gorgeous beaches and crystal clear water. Don't get me wrong; we had that in Grenada. It's just that when you live in a place that long you move past the vacation stage. You move into the point where you begin to understand and meld into a culture. You learn about the people – their thoughts, fears, and sometimes prejudices.
There were times I felt downright uncomfortable in my own shoes because I didn't belong, and there were other times where I felt like I shouldn't be anywhere else.
They are all memories I'll carry with me forever – one's I'll tell my own kids and grandkids. It seemed that 3 years would take forever when we first moved down there, but life moved in the blink of an eye.
If you're new to our blog, Natalie and I both lived in Grenada because our husbands are medical school students at St. George's University. So, of course, the defining moment of moving to Grenada was definitely getting that acceptance letter first.
I'll never forget the moment. After four years in the work force, my husband had this nagging feeling that he wanted to apply to medical school again. He applied right out of college and it didn't work out, so he went and worked in the medical field. Day after day he enjoyed his work but felt that there was something missing. He told me one day that he'd like to try to apply again, now that he was older with much more experience.
We went through the process of signing him up for more college classes to show the admissions committee he stayed relevant. He retook the MCAT (the medical school placement exam) after a grueling study period. We were super organized and sent out 5 applications. He received a ton of interviews, and then we just…. waited to hear back.
Just before Thanksgiving in 2010, our first Thanksgiving as a married couple, we were driving down to Florida to meet my family for a trip to Disney World.
I was in my own little world when my husband called my name.
It went something like this:
"Catherine!"
"Hm?"
"Catherine!!"
"Hm?"
"Catherine!!!!"
"WHAT?"
"I got into medical school."
The way he said those words, "I got into medical school" was so sweet. He said it so quietly, like he was in awe himself, like that full year of preparation to get back into school mode worked. He pulled over at the next rest stop and we both held each other and cried. It was amazing to watch a dream come true – one that he had had since he was a young kid.
Just a few weeks later, he was all packed up to go. He hopped on a plane headed for the Caribbean right after our first anniversary in January.
It's hard to believe how much has happened since then, including the crazy plane ride there that first trip, but that's another story for another day!
Now, he's just one year away from applying to residency. Time moves fast when you're having fun in medical school.
So, when we planned on moving to Grenada I started looking around for some reading that might help me prepare. The only real resource I could find for expats who want to move is GRENADA: Expatriate Relocation Manual
. The book is available on kindle or via paperback from Amazon.
Its got 5 stars on Goodreads, so it is the best resource I could find on the topic. Check it out if you get a chance.
For more on traveling to Grenada or just going for a visit check out these articles.
Moving to Grenada: Hubs' Adventure in the Trinidad Airport
Natalie's Favorites: Grenada
Responsible Travel: Leave Each Place Better Than You Found It
Have you ever lived in a foreign country or wanted to?
Photo Credit goes to our very own Natalie. (I was 11 weeks pregnant with the twins!)