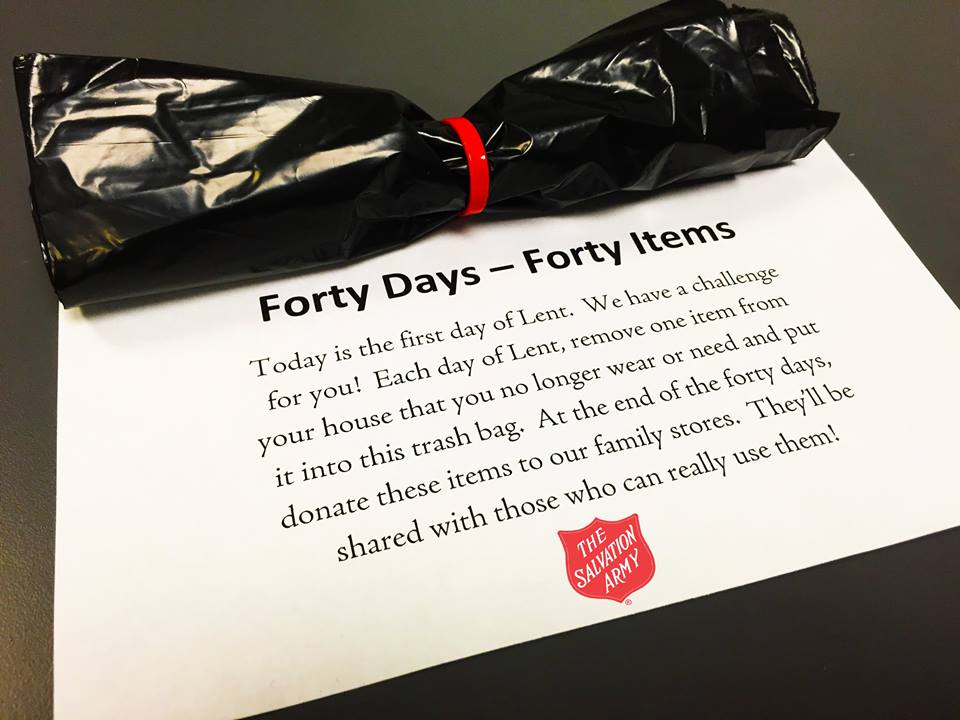 Lent starts today (March 1, 2017). Those of Christian faith may choose to give up something for 40 days and replace that item with more spiritual awareness.
Most years I largely give up food (becoming vegan and gluten free for 40 days). However, this year I was searching for something different. A friend of mine, Caroline, was looking for something new as well so we (and the Facebook community) got to brainstorming. That is when I stumbled upon a new idea: donating to Salvation Army for Lent.
Donating to Salvation Army for Lent
In my mind, this is the perfect way to celebrate Lent. You get to declutter before spring, donate the items to families that need them and celebrate the season of spiritual awareness all in one. With every closet, room and drawer you get cleaned out, you can also begin to clear your mind.
Of course, there are only 40 days in Lent and, ideally, you'd pick an item per day. You can fulfill your Lent duties by spending your weekends cleaning out your home. Then, once you get your items together, you can take them all together (all 40) or take them in smaller trips. You can also call Salvation Army to pick your items up (especially if they are larger).
Possibly the best part about giving to the Salvation Army for Lent is that you'll be able to benefit from it as well. You'll not only be able to fulfill your Lent calling but you'll also get to deduct your donation from next year's taxes. Make sure you get a receipt before you leave the store!
What Kind of Items Does Salvation Army Take?
If you're thinking about donating 40 items during the 40 days of Lent, you may be wondering what items the Salvation Army accepts. Below is a list of items accepted:
Clothing (all sizes and styles)
Shoes (all sizes and styles)
Small Items (Knick Knacks)
Electronics (televisions, stereos, game systems, etc.)
Kitchen items (dishes, electric items, silverware, glasses, mugs, cookware, etc.)
Appliances (microwaves, washers, dryers, etc.)
Furniture (decent quality without serious cosmetic/safety flaws)
Cars (yes, Salvation Army accepts car donations as well as a few other large-ticket items)
Workout equipment
Misc items
Items That Are Not Accepted
Although there are a large amount of items that are accepted by the Salvation Army, there are items that are not. Here are the items Salvation Army will turn away:
Built-in appliances
Kerosene appliances
Large console stereos
Large TV sets
Car parts
Chemicals or paint
Recalled items
If you are wondering about a specific item that you want to donate you can call 1-800-728-7825 and check to see if your donation will be accepted. You can also call the number mentioned to find your nearest location or schedule a donation pickup.
Will you take the Lent Challenge and declutter for the next 40 days? 
Photo: Facebook