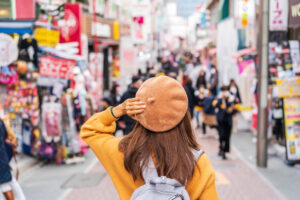 Taking time away is great for your mental health, but not always best for your finances. Unfortunately, even budget vacations will set you back hundreds or thousands of dollars. And when funds are limited, it's even more important not to overspend. If you need to stick to your budget, here are 10 things you should never buy on vacation.
10 Things You Should Never Buy on Vacation
1. Currency
Most foreign countries don't accept U.S. currency. So if you are traveling internationally, you will need to exchange currency before your trip. However, if you wait, it could cost you.
Tourist hubs like airports, hotels, train stations, and border crossings will have money changers. But, they usually charge more for their services. I've found it's better to buy your foreign currency ahead of time from your local bank. Not only do you have lower fees, but you usually get a better exchange rate as well.
For those who aren't comfortable carrying that much cash, you may have another option Check with your bank to see if they have a partner bank where you are traveling. If so, you can use their ATMs without paying additional fees.
2. Guided City Tours
Many people enjoy guided tours of their vacation destinations. They are convenient, and you can see several things in a single day. However, guided city tours are one of the things you should never buy on vacation when you are on a budget.
Traveling through Europe, I learned that most large cities have operators who offer free walking tours. Local guides will take you to the top attractions and tell you about the historical highlights for a fraction of the cost. And, they will likely take you off the beaten path to places most tourists won't see. The only cost will be the tip, and you can gain a different perspective while saving a bundle.
3. Extra Baggage
Over the last decade, many airlines have reduced services and continue to cut back on complimentary offerings. Some now even charge you for your carry-on bags. Therefore, it makes financial sense to pack light. The good news is that most major airlines will allow you to take a carry-on and personal item for free.
But if you have to check a bag, make sure you know and meet the weight restrictions. They usually charge $30 for checked backs under 50 lbs. However, you will pay an extra $100 for baggage between 51-70 lbs. and an additional $200 for anything over 70 lbs. Discovering your baggage is overweight when you check in is an unpleasant way to start your vacation. So, weigh it at home and make sure that you only pack what is necessary to avoid the extra fees.
4. Airport Food
The cost of airport food is one of the most common complaints among travelers. When you're at the terminal, prices are significantly marked up. But today, travelers have fewer options with airlines limiting their meal services.
When you need to find food, you have two choices; pay an extra 15% or bring your own. I usually go with option two and bring snacks like fruit, protein bars, and crackers that travel well. However, just make sure to read the restrictions for the food items you can take with you so you don't have to throw anything away. But with the right snacks, you can save a ton of money on travel days.
5. In-Flight Internet
We rely on the internet for many things in our personal and professional lives. Therefore, it can be difficult to disconnect for even a few hours. But, in-flight wifi is another of the things you should never buy on vacation.
The airplane's internet is slow and unreliable on a good day. So, it's probably not worth the expense. It's better to stick to the free internet access in the terminals or to pay for faster connections when you have a long layover.
6. Electronics Accessories
Even if you don't use them in flight, you will probably still have some electronic devices with you. This also means that you have to bring all the attachments and accessories that go with them. With so many pieces, it's easy to forget something, especially if you have multiple people and devices.
It happens often and many other travelers face the same issue. So, you can always find stores or kiosks in the airport that have chargers, adapters, earbuds, mice, keyboards, batteries, etc. But if you wait until you get out of the airport, you can get it for a better price.
7. Fine Jewelry
When relatives came back from vacation, I found it strange that they bought fine jewelry while they were away. And the more I traveled and scams I became aware of, the more hesitant I became.
Although you can find high-quality jewelry, there are also plenty of con artists looking to take advantage of tourists. So, I prefer to buy from certified dealers who are closer to home. Plus, it's easier to contact the seller or visit the store if you have any issues after the sale.
8. Designer Knock-Offs
Visiting the local markets and finding one-of-a-kind, handmade items is one of the highlights of my trips. But among the artisans, you will also find plenty of vendors peddling designer knock-offs. I'll admit to buying a few over the years.
But, no matter how good they look, they aren't made to last. These items often fall apart within a few months of continuous use. So, why not invest in brands you trust to make sure you get your money's worth?
9. Cheap Souvenirs
On my first trips abroad, I rarely walked away from stores without some unnecessary, cheap souvenirs. While I enjoy bringing things back for family and friends, I've learned not to waste my money on cheap souvenirs.
Since most of the items are trinkets no one really wants, these are some of the things you should never buy on vacation. Instead, save your money and the space in your suitcases.
Travel-Size Toiletries
With the regulations controlling the size of liquids in your carry-on, most people think travel-size toiletries are the only option. Although convenient, it actually costs more money. And, they only last for a few days.
I prefer to buy full-sized items when I get there. In addition to having my regular care products, I can easily share them when I'm traveling with others. And if you end up checking a bag, you can use them when you get home.
Last-Minute Budget Tips
With summer fast approaching, many of us are looking forward to some time away. However, don't let overspending on unnecessary things ruin your vacation. When you make a budget and stick to it. If you are realistic with your finances and understand wants vs. needs, you will get the most out of the experience.
Read More
Jenny Smedra is an avid world traveler, ESL teacher, former archaeologist, and freelance writer. Choosing a life abroad had strengthened her commitment to finding ways to bring people together across language and cultural barriers. While most of her time is dedicated to either working with children, she also enjoys good friends, good food, and new adventures.