hello my friends! As you may have read Budget and the Bees has recently changed management and with that change I get to meet all of you lovely people. I'm Jac Lambert, a personal stylist, student makeup artist and budding designer . I'll be posting fortnightly for now with all things fabulously stylish and fun. Lets get things rolling with an outfit post.
When I do outfits posts I like to include 3 reasons why the look works so you can incorporate those guidelines into your own wardrobe and daily looks. I find that having a greater understanding of your body type and how clothing affects your look can save you a great deal of money and time with shopping and getting dressed each day. Winning.
I know many people have reservations about animal prints, especially cat prints like leopard, but tiger stripes are my favorite animal print ever! I'm a crazy cat lady, and no shame!
Recently I saw this bustier and clicked it into the basket immediately, then backed out because we've all got bills to pay.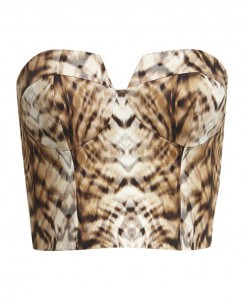 A week later when researching for a client, I saw it again… taunting me…
Again, I clicked it in the basket and then backed away at the last moment.
Finally, when I was preparing my outfit for another client I could not get this bustier out of my head! The heart wants what the heart wants.
So the next day I ran myself down to shops, tried it on and fell harder in love.
This is how I styled it for the session.
The compliments I received whilst out were numerous! The waiter at lunch as he placed my meal on the table whispered "I love your dress by the way." and another lady in a shoe store called my look "Perfection!" and used me as an example of vintage inspired dressing to her workmates. Pretty sure my ego has sky rocketed, haha. It was so lovely for people to say these nice things.
Reasons why this look works:
1 – I'm wearing a petticoat underneath the skirt to create volume. Because of the pattern drawing attention up on the top half I needed to balance out the bottom half of my look.
2 – The length of the skirt is below my knee to balance the strapless top. If my skirt was shorter we could be walking into TMI territory.
3 – Besides the necklace, everything is of a similar tone which is easier for the eyes to digest. It also gives the illusion of height when you are dressed in a monotone (My heels also help that).
BONUS: I can style this bustier down with a pair of jeans and blazer for a more casual vibe, like catching up with friends.
What do you think? Are you a fan or do you think it's a bit much?
Do you brave animal prints in your looks?
Jac is a personal stylist based out of Canberra, Australia and is currently studying to be a make-up artist as well as working on the start of a clothing line.
She is creative, vibrant and enthusiastic and has a deep passion for boosting women's confidence and self-esteem.