Entertaining guests outdoors is an extremely popular activity, especially for those who live in areas with warmer climates. Outdoor entertaining can be hard work and may need quite a lot of preparation before the guests arrive. Here are some tips for making it successful.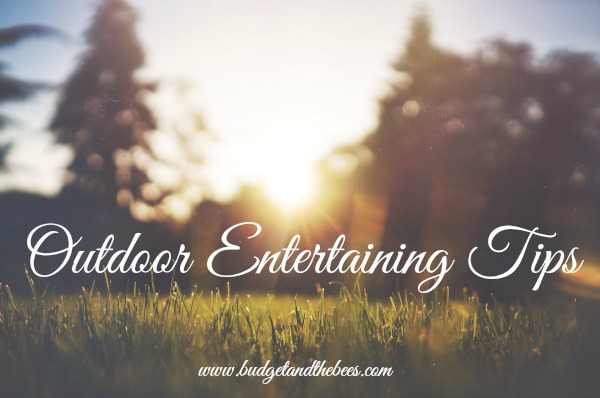 A tidy garden and lawn
It would be a shame to put on a mouth-watering meal and crisp, refreshing drinks amidst an unkempt garden. Especially if the table is resting on uncut lawn. So before you set up the table and chairs make sure the garden and lawn are tidy. If you need to cut the grass but have nothing more than a pair of rusty scissors, head down to your local hardware store and bring back one of their lawn mowers. To keep from disturbing the neighbours while cutting the grass, try an electric model like those made by Ryobi. You'll have a neat lawn to show your guests, and the neighbours won't be upset by any last-minute preparation.
Keeping bugs at bay
Entertaining outdoors on warm evenings is a wonderful experience. The air remains warm and balmy without the intense heat of the sun bearing down on your guests. But as the sun sets, nocturnal insects emerge in search of a feed, and you don't want your guests to be on the menu. To maximise the comfort of your visitors and help them enjoy eating a meal instead of being one, there are some measures you can take to keep the bugs at bay. One method of doing this is an electric bug zapper: a blue fluorescent tube nestled behind an electrified grid. It provides its own outdoor entertainment at times when a large insect strays too close. Another is the citronella candle that is reasonably effective at keeping mosquitos away from the table.
Outdoor cooking facilities
Barbeques have traditionally been the main form of outdoor cooking and have become a social lubricant of sorts, where people stand around with a drink in their hand as the food cooks. If you already have a barbeque but would like to take the next step in patio cooking, why not consider installing a wood-fired pizza oven? Its intense 400-degree heat produces deliciously crisp pizza in just a few minutes, and it provides a cosy source of warmth on those cooler evenings when outside entertainment is a borderline decision.
Comfortable patio furniture
Patio furniture has come a long way since the days of rickety card tables and beach chairs. Quality outdoor furniture in the 21st century is the hardy equivalent of indoor dining settings and lounge suites. You can choose full sets or individual components that add to the décor of your outdoor area, bringing an air of luxury and style to even the plainest space. You don't have to spend an arm and a leg to purchase it, either – bargains are often up for grabs on online classifieds sites.
Successful outdoor entertaining, is so much more than fine food, tasty beverages and good company. Why not leave your tips, ideas or experiences on entertaining outdoors below?