As the holidays draw nearer you may notice more subscription boxes and other subscription services pop up in your online advertisements. Subscriptions, like "Tie of the Month," have been a popular gift for some time now. With newer subscription services popping up every day there seems to be an overflow of variety. So, what about sock of the month club? Is it worth it and what is the best subscription service for socks?
Sock of the Month Club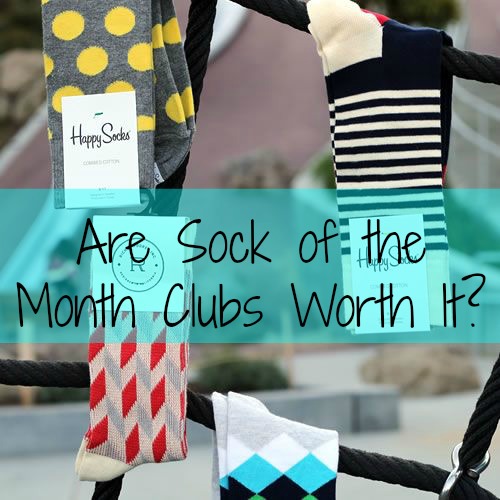 Like many other monthly
subscription services
you pay for the sock of the month club monthly (or you can pay a single annual fee if it is a gift). Most clubs will give you the option of the size and how many new pairs of socks you want to be sent each month.
If you enjoy decorative socks, you know that they can be pricey (seriously, $20+ a pair). This is where sock of the month club subscriptions can come in handy. In many cases, you are getting a good deal on a snazzy pair of feet warmers. But what sock of the month club services are giving the best deals?
Sock Panda: Sock Club With a Purpose
Sock Panda provides its members with one new pair of socks for $12/month and two new pairs for $19. You can choose between patterned socks or "wild and crazy" when setting up your account profile (or choose to receive one of each). You can also save yourself a bit of money and only pay $16/month for two pairs of socks if you pay for a year up front ($192 total). Many people like subscribing through Sock Panda because, for each pair you buy, the company donates a pair of socks to someone in need. You can cancel at any time.
Sock Fancy: For the Sock Fanatic
While Sock Panda caps you at two pairs of socks a month, you can get up to six pairs per month with Sock Fancy. If you choose to get one pair a month, you will pay $11; $19 for two; $57 for six. After you've set up your profile, and the company has your size on file, you'll receive a shipment of simply random socks. So, while you'll be able to get more (and it is a little cheaper to do it that way), you won't have the same selection as some other sock of the month clubs. You can also cancel at any time, so you could potentially try it out one month and then try another the next.
Loot Socks: Socks for the Nerd in You
Loots Socks is my personal favorite sock of the month club (and it is one of the cheapest). Loot Socks offers members two pairs of nerdy socks for $9.99 a month. Sock styles include designs with beloved Star Wars characters, like R2D2, on them. You'll also find Dragon Ball socks, Legend of Zelda footwear, Harley Quinn socks and many other nerdy-themed socks. Because it is a month-by-month service, you can cancel anytime you wish.
Panda Pals: For the Kids
If your little one loves fun sock, consider a Panda Pals sock of the month club subscription. Along with each shipment of socks, they'll also receive some fun brain teasers and other activities. Panda Pals is $15 a month. All you'll need to do is select whether you'd like your sock style for a boy or girl and choose your subscription duration. It should be noted that Panda Pals only sends socks for kids ages 3-8. Like the previous subscriptions, you can cancel at any time.
Are Sock of the Month Clubs Worth It?
All in all, when you take a look at the price of stylish socks in the stores and compare them to the prices above, in many cases, you're getting a great deal. If socks are a key part of your overall ensemble, sock of the month club may be worth the monthly subscription. Or, as mentioned above, it can also make a really great gift.
These are just four of many of the sock of the month clubs available. If you're looking for other subscriptions services (like Book of the Month or Monthly Beard Clubs), you may consider checking out Cratejoy and what they have to offer. You'll be able to find many more sock subscription services there as well.
Photo: Pinterest
Amanda Blankenship is the Director of Social Media for District Media. In addition to her duties handling everything social media, she frequently writes for a handful of blogs and loves to share her own personal finance story with others. When she isn't typing away at her desk, she enjoys spending time with her daughter, husband, and dog. During her free time, you're likely to find her with her nose in a book, hiking, or playing RPG video games.