Investing is hot among retail investors. With low entry requirements, no fees on most platforms, and wide-spread information, they are all looking at ways to enter the market. Besides hopping on the latest meme stocks, small investors are also scouring for other ways to invest their money.  And, a lot of people want to use their money to build up local communities. This has become an even greater need since COVID 19. We have seen large companies thrive while our local communities are fighting hard to survive.
I recently found a platform that is just perfect for this through a work colleague. It's called The Small Business Bond Exchange or SMBX.  They're a newish fintech thats attempting to replace traditional business lending with bonds – which should in theory reduce prices and divert funds away from banks into to local communities. The company is run by leaders in the banking, financial engineering, and technology sectors, and is working on building up a small business bond marketplace.
However, since nobody has heard of SMBX, and because the bonds pay pretty well, I thought you'd like to hear about the company. Here is the a brief overview of my experience with it.
Supporting Small Businesses With The SMBX Platform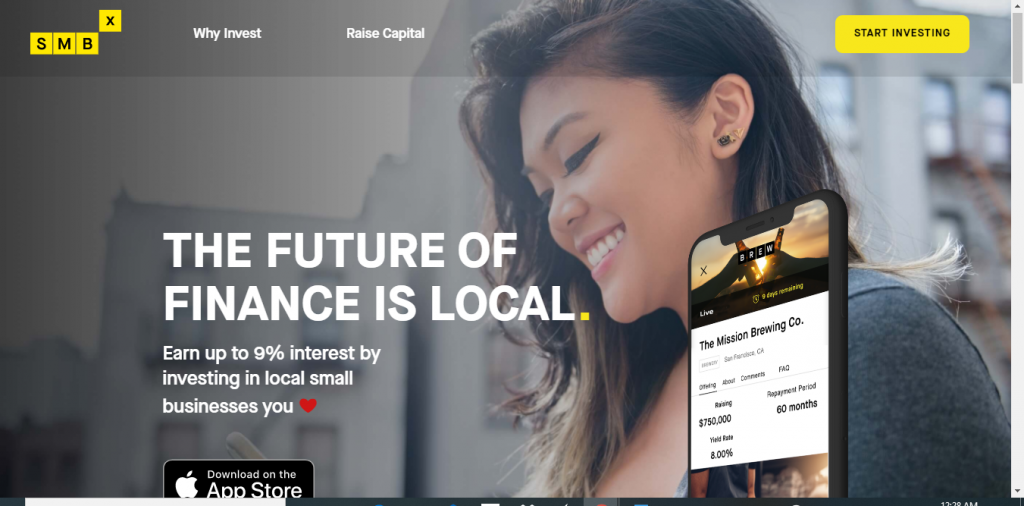 When navigating to the SMBX website, you come across a sleek interface. It is well put together and easy on the eyes with its stark black and striking yellow background. The words "Discover, Invest, and Earn" stick out to you. As does the 9 percent interest you could be earning for using the platform. That's better than any high-interest savings account can get you right now!
When you consider you could make more dabbling in crypto or individual stocks, a 9% yield may not be exciting. However, if you are risk-averse high-risk, high reward is not going to be your style. You also do not want to put your money in a simple bond or high-yield savings account, making less than 1% right now.  Eight percent is steady and is just a few points below the average return rate for the S&P 500, which makes it appealing for the risk-averse investor who still wants a decent return.
If you are looking for a reason to invest, SMBX gives you three:
You could earn 9 percent interest on your initial investment.

SMBX advocates for small businesses and positively impacts local communities.

Small investors can purchase small business bonds for as low as $10.
Investing with SMBX
I am starting with a $50 investment that I will watch over the next six months. I was unable to put my investment amount into the graph, as it starts at $10 and jumps to $100. If I started with $100, in a year I would earn just under $5. In five years, I would earn $24.55 with a 9% rate of return. You can change the yield rate on the calculator to see other potential outcomes of your investment.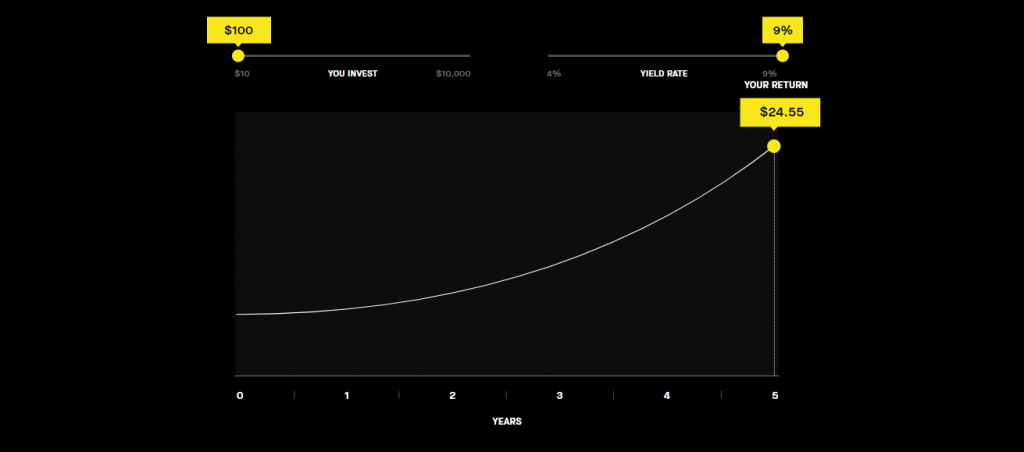 At the corner of the page is a yellow button that says "start investing". With that, I began navigating the website in search of the perfect investment opportunity. After arriving at the offering page, I noticed only five investment opportunities to choose from, with several campaigns already completed. To check out the offers, I simply clicked and examined them one by one. The one I found most interesting was a campaign for Humphrey Slocombe. The name of the business and its yummy-looking ice cream products quickly caught my attention.
Once I navigated to the business page, there was a lot of information to take in. On the left side of the screen was about its campaign. It had a goal to raise more than $250,000 with just 30 days left to go. Information was displayed about where the business was located, which was in California. It had background information on the brand and its operations as well as the founder's story posted to the campaign page.
Here's The Investment Aspect
As far as the investment aspect, the bond duration, yield, and value per bond unit were displayed. The company clearly laid out how the money earned from the offering would be used. Fifty percent would be allocated to debt refinance, while the other half would go towards opening a new location. While some other campaigns had a prospectus, I did not see one prominently displayed. You had to click around to find it.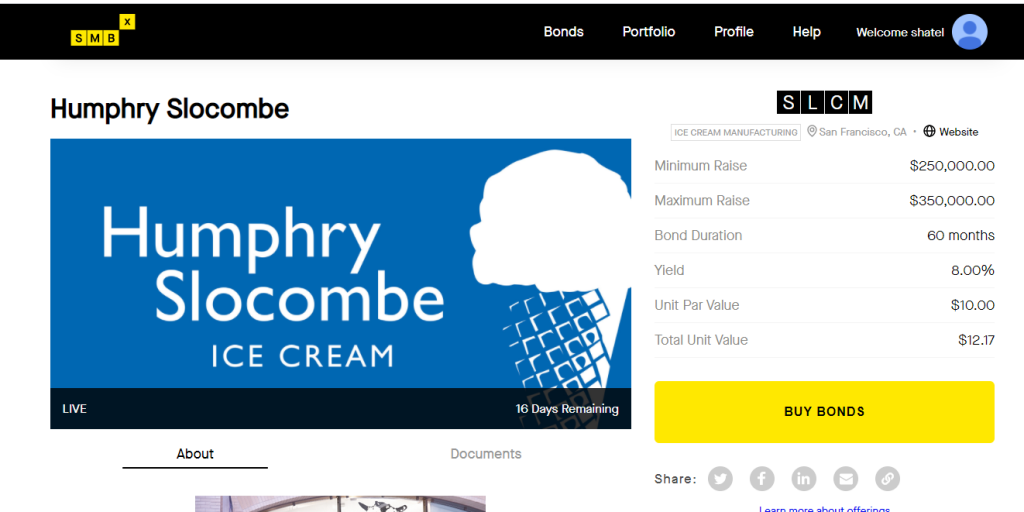 After reading the backstory on the business, I decided to purchase five bond units. I had to first sign up with an account by registering. It will ask if you are a personal investor or an organization. After creating a username, password, and email, you must start an investor profile. You are required to give your legal name, address, and other information like you would with any other investment platform.
It goes on to ask about your income and net worth. After entering the details, you have to read over some disclosure details and confirm that you understand and have read the terms of service, privacy policy, and investor disclosure agreements, as well as other educational information.
Funding SMBX Account
After agreeing and registering, I verified my account through email and went to fund my account. One great thing I noticed was that you could fund your account using a credit card. This is great for those who do not like granting access to their personal bank to investment platforms. I should note that in the fine print, there is a 4 percent surcharge for paying with credit, so keep that in mind. I chose to add my bank account, which took less than three minutes to set up through Plaid.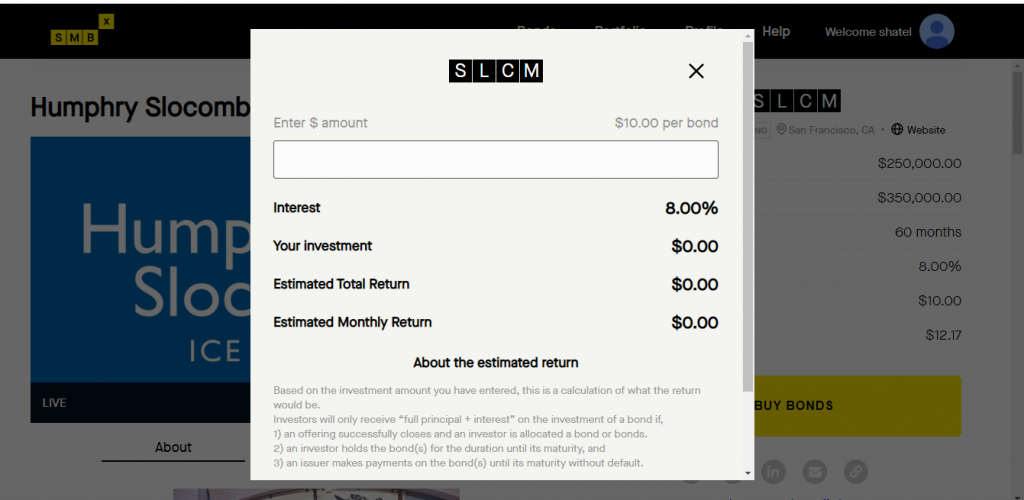 After registering my account and linking my bank account, I was ready to purchase. The process was fairly simple. I clicked buy bonds from the campaigns page. Then I added the dollar value I would like to put into the bond. I found it very cool that they added information about your estimated total return and monthly returns. When I finished, I clicked done and confirmed my first purchase on SMBX.
Conclusion
This was my first time purchasing on a crowdsourcing website. I have browsed through many similar sites in the past but have been scared to try them out. One reason I chose to give SMBX a try is that its website was beautifully designed, and its limited choices of campaigns were quality. I also found companies that I like and would enjoy engaging with.
It offered a sleek interface and easy-to-digest information. I loved the fact that it was simple to set up an account and link a card. A lot of investing platforms take days to fully set up your account and link your cards. I was able to put a buy order in quickly, and they even take credit cards. I do not know a single brokerage that deals with the stock market that allows that!
Oh and if you want to sign up, which I recommend if you like bonds, can you do it => here.