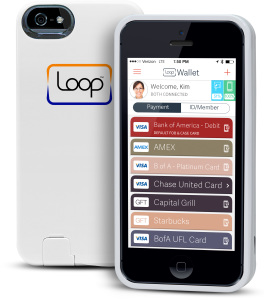 A couple weeks ago I was given the opportunity to try out an awesome mobile pay product called LoopPay. If you can't already tell, I think it's incredible! LoopPay is a system designed to replace the charge cards in your wallet, which means you can make a card purchase using your cell phone instead of pulling out your card. For so many who keep their phones in close reach at all times, this is a great way to simplify your life. My review is for the ChargeCase, but LoopPay makes several products to enable mobile pay to fit different lifestyles and needs.
My first question and concern was about security, so if you're anything like me, I wanted to address that right away. The LoopPay app is password protected. If your phone is lost or stolen and you have a lock code on your phone, someone in possession of your phone would have to know your lock code to gain access to your apps and also know the app password. Stealing your actual credit card and using it would be easier than stealing your phone and successfully making purchases.
If your phone breaks or is lost, you can still use your cards as your normally would; using one does not mean you can't use the other. When using the LoopPay app to mobile pay, your card numbers aren't displayed on the screen to the people in line behind you like they are when you pull the actual card from your wallet.
LoopPay's website does a great job of giving the quick rundown of why their product is at the top of the market. It's accepted at way more places than their competitor, Apple Pay, because it uses technology businesses already have. You also aren't required to have the newest iPhone to use it. LoopPay works with iOS and Android phones. It can hold gift cards and loyalty or reward cards in addition to charge cards.
Let me give you my rundown of the practicality and user friendliness of LoopPay.
Pros
I love that the ChargeCase serves as an extra battery for my phone. Earlier this fall it became apparent that I needed a backup battery for long days away from home, and I bought one. Now my cell phone can literally be my communication to the outside world, my wallet, and my battery backup. LoopPay took three items in my purse and made them one.
Getting started with LoopPay was relatively easy. There are visual guides that walk you through set up and show you how to mobile pay. Swiping cards into the system took a few tries, but once I got a feel for it, my cards went in on first swipe.
The LoopPay app has a password keeper, which I think is a neat bonus. I've been making a conscious effort to change passwords that I've had forever and make them unique, but I hate going through the "forgot password?" process when I've made it too unique to recall. It's nice to have a safe place to keep them.
The ChargeCase has a long battery life, so this isn't an additional piece of technology I have to charge every night. My ChargeCase is down 5% in over a week.
According to LoopPay, their technology can be used when traveling abroad. I think that flexibility is pretty cool.
Along the lines of flexibility, I mentioned there being different products to give you the same mobile pay ability in different forms and price points. You can use a small card or keychain fob if you don't want to use or carry your phone all the time. Both items are low profile and many observers would never know they contained your mobile wallet. I can see either of these options being perfect for when you need to carry minimal items, like when going for a run. A house key, LoopPay fob, one form of ID, and a tube of chapstick are all you need sometimes.
Cons

Sometimes my access to the volume buttons of my phone is impeded by the ChargeCase. I say sometimes because I've only found it to be from certain angles. More specifically, it was problematic when I wanted to use a volume button to capture a photo in place of the on screen button. It could be an annoyance for someone with large fingers.
Two of my store cards did not scan in to LoopPay. They aren't frequently used or important cards, so I didn't find it to be a big deal. The cards are older, so I have a hunch it has to do with that, but I don't know for sure.
The ChargeCase is thicker than my previous case. Since the case is its own piece of technology, you have to expect it to have a little bulk though. I don't think it's any bigger than those Otterbox cases everyone used to have.
You need to keep your bluetooth on if you want mobile pay to be accessible quickly. Bluetooth runs your iPhone battery down faster than when it isn't on, but luckily LoopPay thought of that by integrating a battery into the case. I haven't had to use the ChargeCase to charge my phone yet, so it's not like my battery is running down at an alarming rate.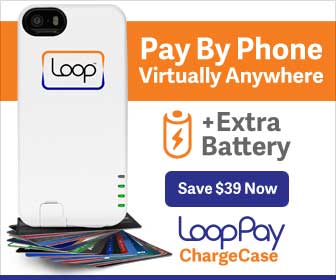 LoopPay in Action
One of the things that surprised me about using LoopPay for the first time was that I was still prompted to sign for my purchase. I don't know why I thought it would be all automatic, but I say this so you'll know what to expect in the checkout process. I touch the card I want to pay with on the screen of my phone and then sign the store's credit card machine as usual.
Another surprise was the placement of my phone during the transaction. Some credit card machines have a blue scanner at the top for self scanning some cards, however, this is not where you aim your LoopPay. The LoopPay logo gets positioned over the slot where you'd slide your credit card.
I have yet to use LoopPay in a restaurant or other situation where someone takes my card from me to complete the transaction not in my presence. I was confused how this could work, but LoopPay's solution is pretty smart, especially when someone taking your card out of view is a good way to have your credit card information stolen. The card or keychain fob, which comes with the ChargeCase, can be given to the server. Within the app I can set the fob to be activated away from my phone for ten minutes. There is a button on the fob that the server would push with the fob positioned over the credit card slot. This should work the same as handing the server a card to slide, and I'm interested to try it out.
Final Thoughts
There are many small businesses in my area that have minimum purchase requirements for using a card or won't allow certain things to go on cards (like tips). For this reason I don't feel that LoopPay can completely replace my wallet. Despite still carrying my wallet, I've been able to remove some items from it and make it lighter overall. I find the transaction process quick and convenient since my phone is already within reach. I think LoopPay is great for anyone who loves being at the forefront of technology or who likes to streamline all they do. I'm really enjoying this technology, and I'm excited to see what the future of mobile pay holds!

Do you or would you use a form of mobile pay to replace your traditional credit card swipes?