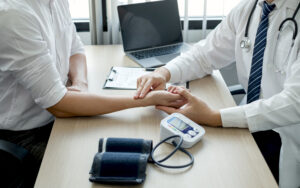 The whole purpose of health insurance is to provide medical coverage to help you lower your healthcare bills. While it seems premiums get more expensive every year, many people don't realize that they qualify for several free services and discounts through their health insurance policies. If you have overlooked these perks, you may be missing out on ways to save.
10 Health Insurance Benefits for Free Services and Discounts
Although I am currently a member of BlueCross BlueShield, I have also carried Aetna and other policies in the past. However, my research has shown that most providers offer similar services to their members. With these 10 health insurance benefits, free services, and discounts; insurance companies are promoting life-long wellness and ways to support you in making healthy choices.
1. Preventative Visits
Thanks to recent reforms in healthcare, federal law requires health insurance companies to provide free preventative care measures. These offer significant savings for your entire family by offering free immunizations, health screenings, and counseling services. There is also focused care for women and children to ensure they have access to the resources they need. Since these services are available to you for free, it makes financial sense to take advantage of them.
2. Telehealth Consultations
When you are sick or injured, it becomes more difficult to leave home for in-office visits. However, service providers now offer free virtual consultations to make it easier to make your appointments. There are a variety of telehealth services that make it possible to speak with your doctor about any questions or concerns you have. With the ability to book times that work for you, telehealth services add flexibility and convenience while reducing the time and costs of commuting.
3. Medical Equipment
Another important benefit that your health insurance provides is free medical equipment. For example, they offer several devices to aid the visually and hearing impaired. Those needing a hearing aid have many styles to choose from as well as free batteries, cleanings, and in-office visits.
Mothers who are breastfeeding can also seek assistance. Pumping devices can be very expensive, ranging from $100 to $350. But, most health insurance companies cover the cost or offer subsidies for the equipment nursing mothers need.
But most importantly, your policy should provide you with vital equipment that you use to monitor and treat chronic conditions. This could include anything from blood pressure monitors and oxygen to discounts on fitness trackers like Apple Watches, Fitbits, or Garmin devices. But benefits vary by plan, so you will have to check with your provider to see what is included in your coverage.
4. Safety Equipment for Your Kids
Since we're talking about free equipment, your healthcare policy may be able to provide you with free safety equipment for your children as well. Some offer free items like bike helmets. Others send you home safety and ID kits to help you teach your kids how to protect themselves against potential dangers.
5. Natural Products and Services
Although many people wouldn't think to ask, your insurance plan may provide discounts on nutrition products to support a healthy lifestyle. This encompasses a wide range of discounts on massages, chiropractic visits, acupuncture, and nutrition counseling. However, it may also extend to meal plans and supplements. Anyone who uses these services can tell you that this is a significant savings.
6. Wellness Coaching
Another new feature is free coaching to help you reach your fitness and health goals. There are wellness coaches that can give you ways to reduce stress, manage medical conditions, find providers, and help you create a balanced and healthy lifestyle.
Coaching may include regular counseling by phone to help you reach your goals or free tools to keep you on track. Although it may not provide immediate payoffs, it will lead to many physical and financial benefits down the line.
7. Support to Quit Smoking
Giving up cigarettes was hard. However, health insurance usually includes coverage for cessation programs to help. Mine offers free nicotine replacement products like nicotine inhalers, patches, gum, and medications that reduce dependency. In addition, they provide counseling and support at every step. So if you have been trying to quit, this could be a great way to ensure that you follow through and get the financial support you need to do it.
8. Fitness Club Memberships and Classes
One of the best perks I discovered was discounted memberships and free fitness classes. I'm an active person and I like to try new things. However, the price tags for certain activities were a deterrent for me. I didn't want to invest in a new hobby that I wasn't sure I would stick with. But, free memberships and classes are a great way to try out new sports or activities before you make the commitment. It encourages you to get active and save money on fitness memberships.
9. Apps
Another new benefit is free digital fitness apps. Although health club memberships are great, some people prefer to work out at home. That's where free digital workouts can save you money. For example, Kaiser Permanente gives you access to ClassPass which has classes from thousands of gyms and studios across the country.
You may also get free subscriptions for meditation apps for stress management. Regular meditation has been shown to reduce blood pressure, anxiety, and insomnia while improving concentration and other key health indicators. Having access to a free app can help you get into regular practice and save on services you may already use.
10. Rewards Programs
Most of us are motivated through positive reinforcement. Therefore, many companies try to motivate people to stay in good health by offering incentives and rewards. Sometimes this means cold, hard cash. However, it usually includes gift cards and discounts if you live a healthy lifestyle.
If you check with your provider, there are many ways to claim these rewards for reaching your goals. You can take assessments and report on your progress, earn points for completing regular checkups, and get paid for monitoring your health. And the best part is that you can choose which rewards you prefer. It may not make you rich, but it does make it sweeter to stay healthy.
Rewards Specific to You
While there is a long list of health insurance perks and free services, it's impossible to list them all since coverage varies based on your plan. Your best option is to check your policy to see which ones you are eligible for. If you log into their website, you can browse these discounts and services. Or, you can call to speak with a representative who can tell you more. Although programs may differ, they all have the same goal of making it more affordable for you to stay healthy.
Read More
Jenny Smedra is an avid world traveler, ESL teacher, former archaeologist, and freelance writer. Choosing a life abroad had strengthened her commitment to finding ways to bring people together across language and cultural barriers. While most of her time is dedicated to either working with children, she also enjoys good friends, good food, and new adventures.