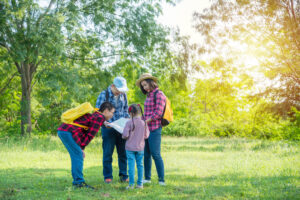 While I have always been budget-conscious, things have been especially tight recently. In the last year, we were hit with huge home repairs and unexpected expenses. Unfortunately, this hasn't left a lot of room in our budget for entertainment. But instead of sacrificing everything we enjoy, we have found at least 5 free activities for a no-spend weekend that are fun for the whole family.
5 Free Activities for a No-Spend Weekend
Although it may be difficult, you don't need to spend money to enjoy yourself. You can find plenty of free things to do that won't cost you anything…you just need to know where to look.
Hiking
Since my family loves exploring the outdoors, hiking is one of our favorite summer activities. We frequently head to local parks and hiking trails on the weekends. But when we want something more adventurous, we use apps like AllTrails to find obscure, off-the-beaten-path places.
Thanks to the help of other hikers, we have discovered many waterfalls and caves in our area. So if you like the idea of sticking closer to home, you can uncover things in your backyard without having to drive long distances and deal with crowds.
Playing in the Park
No matter how old I get, I will always love spending a day at the park. As a kid, we would make it a quest to visit and test the best parks in our city. Now that I'm an adult, it's still a great place to relax with a book, get some exercise, or spend time with your kids. You can even pack a picnic and make a day of it.
This summer, my husband and I have enjoyed miles of riverwalks and walking trails, outdoor amphitheaters, play areas, and other sponsored events and festivals without having to spend anything on transportation and accommodations.
Check Out Your Local Library
Your local library is a community hub and a great place to get information about events and free activities near you. In addition to reading material, our local branch has a rec center and gym for sports and group classes. It also exhibits pieces from local artists as well as organizes concerts, book readings, and other family-friendly activities.
Many people also don't know that you can get free or discounted tickets to museums, zoos, and other cultural attractions through the library. So if you are looking for entertainment, your local library is a great place to find free activities for your no spend weekend.
Game Night
Another thing my family loves is playing games. We can spend hours laughing and playing various card and board games together. Sometimes, we'll invite our friends or neighbors when we prefer to have a night for adults only. Since we already own many games, there's no need to invest in much more than snacks and drinks. All in all, this is a great entertainment option when you're on a budget.
Stargazing
This last suggestion is perfect for those who keep late hours. I've always been a science nerd and had a fascination with the stars. My brothers, cousins, and I would lay outside for hours finding constellations and watching for shooting stars.
And I still love to do this as an adult. But, now we have apps that can make it easier to find and identify celestial objects. If you're up for some stargazing, you can download free apps that will help you map the night sky.
Parting Thoughts
Although it can be difficult living on a budget, you don't have to give up everything you love. When you think outside the box, there are many free activities that you can do to save money without sacrificing fun.
What are some of your favorite, free activities? Share your thoughts in the comments below!
Read More
Jenny Smedra is an avid world traveler, ESL teacher, former archaeologist, and freelance writer. Choosing a life abroad had strengthened her commitment to finding ways to bring people together across language and cultural barriers. While most of her time is dedicated to either working with children, she also enjoys good friends, good food, and new adventures.