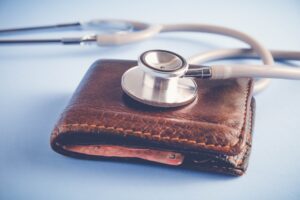 Working abroad, medical expenses were never a major concern with national healthcare. However, I moved home to be closer to family. One of the hardest parts of transitioning to life in the United States was giving up my free health insurance. While I know I made the right decision, life is more expensive here, even more so with rising inflation. And for those with no insurance, out-of-pocket medical expenses are costly.
Fortunately, I didn't have to go without insurance for too long and found a plan I could afford. But, what happens when you can't afford your medical bills? Here are 7 strategies I have used to deal with medical debt and keep myself afloat in lean times.
7 Strategies to Deal with Medical Debt
If you have experienced a serious injury or illness, then you'll know that healthcare expenses can become overwhelming, especially if you don't have insurance. However, you don't have to sit back and watch the mounting debt drain your savings.
Here are a few successful strategies to deal with your medical debt.
1. Maintain an emergency fund.
Medical emergencies are one of the main reasons I keep an emergency fund. You never know when a serious injury or accident will occur. So, it's best to stay prepared. We utilize our HSA account for emergencies and make sure we have enough to cover the deductible. However, you don't need an HSA to set up your emergency fund. You can open a savings account as well and mark it as your emergency stash of cash.
2. Look for billing mistakes.
Medical billing can get complicated for patients and providers, so you can imagine how frequently mistakes occur. According to Medical Billing Advocates of America, 75% of medical bills have some kind of error on them. Therefore, read your bills thoroughly to make sure the charges are correct and that you are only paying for the services you received. Also, check to see that you are not charged twice and that all eligible charges are coded correctly. This could help you avoid huge and unnecessary expenses.
3. Negotiate with your medical providers.
You may not realize this, but you have the option to negotiate your bills if you are struggling to pay them. If you have an honest conversation about your financial situation, most medical providers will work with you. They may even settle for a lump sum payment for a fraction of what you owe. So, discuss your options to ensure you get the care you need. Keep in mind though that this tactic works better if you contact them before you miss a payment or incur late fees.
4. Set up a payment plan.
Another way to deal with your medical debt and avoid penalties is by setting up a payment plan. Many providers are willing to adjust the timeline to give you some breathing room to pay your bills. Although it takes more time to pay off the debt, each installment will be lower. This way, your finances don't have to take the full impact of the healthcare costs.
5. Find organizations that offer support.
After my first extended stay in the hospital, I soon learned that the medical bills can become astronomical following a hospitalization. However, I wish someone had told me about financial aid services sooner. If you are unable to pay your bills, find someone on staff in the financial support office. They may be able to direct you to individuals or organizations that offer support. And, they will have information on state laws that may entitle you to some financial aid.
You can also reach out to local charitable organizations. If you tell them a little about your situation or financial burdens, many will go out of their way to help you. Some may even work with private donors or know of organizations specifically looking to help people with what you're going through.
6. Consolidate your debt.
People with serious conditions that require prolonged treatment often accrue medical bills from several providers. Depending on how much you owe, it could benefit you to consolidate your medical debt. Like other debt relief programs, it can help you gain control and avoid late fees by rolling them into a single monthly payment. However, you should be aware that debt consolidation loans have their drawbacks as well. If you aren't sure if this route is right for you, contact a debt consolidation agency to discuss your options.
7. Avoid adding more debt.
Getting out of debt is already hard enough, so do what you can to avoid taking on any more. If you create a budget and live below your means, this should be manageable.
However, don't neglect your physical well-being to do so. You can still prioritize your health without sacrificing the quality of care. One way to save is to make sure to use providers in your network. Another is to review your insurance plan to make sure you are getting what you need from it. And, check for coverage before scheduling procedures. Calling ahead will also let you know what to expect and start saving.
What Are the Last-Resort Options for Medical Debt?
When it feels like you are out of options, talk to a medical billing advocate. If you are overwhelmed and don't know where to start, hiring a medical billing advocate may be the best way to go. They will talk to your providers to figure out the best payment plans and deals for you. An advocate will also try to lower your costs, handle incorrect charges, and ensure you don't pay more than you have to. Contact the Alliance of Claims Assistance Professionals to help you find someone. Although you may need to pay a fee, it is well worth the expense to clear your medical debt. And, it may be the best option to save your credit and avoid bankruptcy.
Jenny Smedra is an avid world traveler, ESL teacher, former archaeologist, and freelance writer. Choosing a life abroad had strengthened her commitment to finding ways to bring people together across language and cultural barriers. While most of her time is dedicated to either working with children, she also enjoys good friends, good food, and new adventures.