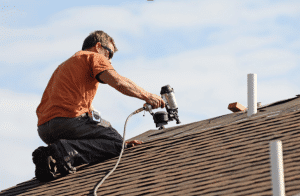 Did you know that over five million American have new roofs installed every year? In fact, roofing, siding, and sheet metal repair is a nearly $32 billion industry. That's why it's important to know when you should fix it yourself and when you should call roofing professionals.
Common Roof Problems
Here's the deal: The demand for roofing contractors is on the rise, increasing by four percent by 2020. That means that more Americans are experiencing roofing problems each year.
That being said, there are several common roof problems that you should know about:
Moisture issues
Bubbling roofing
Missing flashing
If you're a business owner, water damage can lead to a host of plumbing, heating, and ventilating issues. Not only that, but you can expect high utility bills if your insulation is dampened.
It gets worse: you can only tell if your roof is bubbling once you physically check on it. Caused by built-up roofing, bubbling can lead to roof replacement if it's not caught on time.
That's not all. Your roof's integrity can be compromised if you experience any issues with its flashing. Since flashing keeps the elements from damaging your roof, you could experience water infiltration if it's missing or broken.
Emergency Roof Repair Signs
How do you know that your roof needs an emergency repair? Here are a few signs that you need professional help with your roof:
Clogged downspouts
Ripped roofing
Old time roofing
I can't emphasize this enough: you should always take a look at your exterior downspouts after an intense storm. You can tell if your downspout is clogged if there's little to no water coming out of it, which could lead to roof bubbling and water damage.
Also, your roof might be subject to damage due to its age. This can be a major liability for most homeowners. Thankfully, it's easy to contact a contractor that can tell you if you need a new roof.
Another emergency roofing sign is any rips, holes, or tears. If you can clearly see that your roof is damaged, then you'll want to call roofing professionals immediately.
When to Call Roofing Contractors
You might be wondering: when should I call roofing contractors? When all else fails, it's best to rely on a roofing professional. That's because they have the necessary experience to fix anything from water and fire damage to debris and fallen trees.
Dealing with roofing contractors is surprisingly simple. When you do decide to hire a professional, there are several qualities you should look for:
Training
Experience
Longevity
When you select the right roofing contractor, make sure that you provide a blank roofing contract for them to sign if their company doesn't provide one. Once the contractor signs, you're on the way to a repaired roof in no time.
Visit this site for more information about professional roof repairs.
Final Word
When it comes to roofing, it's important to know when you need to call roofing professionals. Don't waste time with amateurs, or try to DIY.