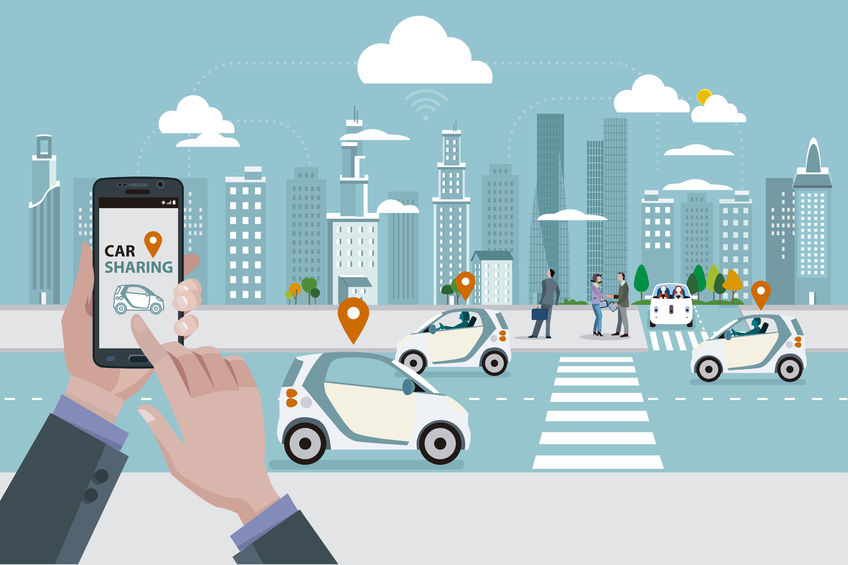 There is no denying most people need a car of their own to get around. Normally they need to drive to-and-from work, to appointments, to the grocery store, and whatever other errands they may need to run throughout the day. Some, however, may be able to get away with only using a car once or twice a week (or less). For these select few, car sharing may be a great
way to save money
.
What is Car Sharing?
Of course, car sharing can refer to the simple act of sharing a car with someone you know. Car sharing also refers to a program that has been popping up throughout the United States. Instead of paying a monthly car payment and hefty car insurance bill, you can pay by the hour to borrow a car. If you need the car only a few days a week, you can set up a plan with the car-sharing company.
Car Sharing Programs
Car sharing isn't for everyone. If you need to drive daily, you shouldn't try car sharing. The same should be said of anyone needing the ability to "pick up and go." For instance, if you have kids in school you may not want to consider car sharing because you won't be able to drop everything and pick up your kids if they need to be picked up. Car sharing programs can be great though if the conditions are right.
How Much Does It Cost?
Depending on the company you are renting through, car sharing can get expensive if you're using it often. Most companies charge around $7.75 an hour and around $80 per day. This includes gas, insurance and around 180 miles a day for most plans. $80 seems hefty though. If you need to borrow the car for five full days throughout the month (barely leaving your home), you'll have paid $400 (easily a car payment and insurance). So, is car sharing worth it?
Benefits of Car Sharing
No car payment. The biggest benefit of car sharing is the fact that you won't have a car payment every month. This can save you hundreds of dollars each month if you are leaving a car payment behind or selling your vehicle. However, this is only true if you are renting it by the hour a few times a month. As mentioned above, car sharing can get expensive.
No car insurance bill. Although you will need insurance to drive the car from Zipcar (or your local car sharing program), you won't have to pay a huge monthly bill insuring your car. Most companies include insurance in your hourly/daily/monthly rate. This can save you anywhere from $20 to more than $200, depending on your current insurance bill.
No maintenance. A huge expense when it comes to cars is maintaining them. You have to go in for regular oil changes, tire changes, etc. With car sharing, you won't ever have to worry about keeping the car maintained. You simply have to return it in the manner you received it.
Downfalls of Car Sharing
Reservations. You'll need to make reservations to be able to take full advantage of a car-sharing program. Most programs don't allow for "walk-in" borrowers. If you want to borrow a car, you'll need to know in advance.
Not being able to pick up and go. Because of the point above, you won't be able to just pick up and go anywhere. You will have to schedule every time you leave the house. For some, this isn't a huge deal but it can be a huge downfall of car sharing.
Not always available. Sometimes the car sharing company rents out all of the available cars. If that is the case, you may not be able to get a car at the time you need it.
It can get pricey. If you need to travel a lot in one month, car sharing can get really pricey.
Q: Should You Consider Car Sharing?
A: It depends.
Despite its downfalls, car sharing can be a great option for some people. Those who have issues with credit and are unable to get a car loan may benefit from car sharing until they are able to get a vehicle for themselves.
Elderly individuals may also benefit from car sharing. As they grow older, most people don't use their vehicle as often. Opting to pay a few dollars here and there for a car for a few hours to run errands can prove to be beneficial on a fixed income.
Another reason you may consider car sharing is that you don't really need a car. Maybe you live in a city with great public transportation and sidewalks. If that is the case, you may choose to walk or catch a bus places and only need a car every once in a while. Car sharing may be perfect for you!
Don't consider car sharing if you need to use your car every day (or more than twice a week), you need your vehicle for work, or you think you would need the car enough that it would amount to a car payment.
Car sharing may be a great option for some, but not for all. Have you ever tried car sharing? What was your experience? 
Photo: The Korea Bizwire
Amanda Blankenship is the Director of Social Media for District Media. In addition to her duties handling everything social media, she frequently writes for a handful of blogs and loves to share her own personal finance story with others. When she isn't typing away at her desk, she enjoys spending time with her daughter, husband, and dog. During her free time, you're likely to find her with her nose in a book, hiking, or playing RPG video games.