Customer Service: C+
Interest Rates: D
Requirements: B-
Ace Cash Express is a lending company that offers short-term loans to people who are unable to borrow from mainstream financial institutions. The company started operations in 1968 and in 2019, it changed its corporate name to Populus Financial Group. This was done in part to rebrand the company and also for the Populus Financial Group to act as a holding company for various brands.
Now, Ace Cash Express is one of the companies under Populas Financial Group's umbrella. Others include Ace Flare Account, ACE Elite™ Visa® Prepaid Debit Card, and PORTE which is a mobile banking application. 
Ace Cash Express
Ace Cash Express markets itself as a lender for last resort for underbanked people who have nowhere else to turn. It offers services such as installment loans, payday loans, cash advance, and title loans. However, the interest rates and fees charged on these loans are quite high.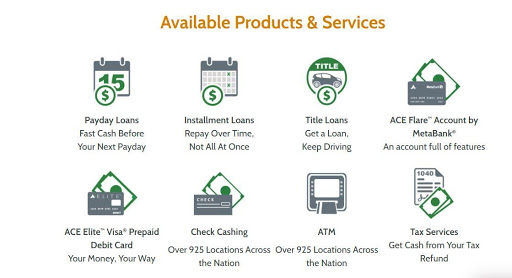 Customer Complaints
Consumers have complained about Ace Cash Express's confusing website and the fact that some have coerced into taking loans. The company has been in trouble with the regulators in the past. In 2014, the Consumer Financial Protection Bureau (CFPB) opened an investigation against the company.
The investigation uncovered a history of coercing users into a cycle of debt through payday loans. Illegal tactics such as harassment and threats of prosecution were used against borrowers to pressure them into taking out additional loans to repay earlier ones. Such borrowers were unable to afford these additional loans and were essentially locked in a vicious cycle of debt.
The company was forced to pay back $5 million to borrowers and also pay a penalty of $5 million to the CFPB.
If you are considering getting an installment loan from Ace Cash Express, then here is all that you need to know.
Installment Loans
Installment loans are a good alternative for people who need a longer period to pay back their loans with predictable installments. They are also marketed towards people with poor credit history who are unable to borrow from other avenues.
Ace Cash Express competes with major lenders such as Simple Fast Loans and Rise Credit to provide installment loans in 13 states. The amount of cash that you can get and the interest rate depends on the state you are applying from. 
The maximum amount you can borrow varies by state, here is a breakdown:
Online
Delaware: $100 – $2,000

Florida: $100 – $1,000

Missouri: $100 – $2,000

Texas: $100 – $2,000

New Mexico: $100 – $2,000
In-Store
Colorado: $100 – $1,000

Florida: $100 – $1,000

Louisiana: $400 – $700

Missouri: $100 – $2,000 

New Mexico: $100 – $2,000 

Ohio: $100 – $1,000 

Oklahoma: $50 – $700 

Texas: $100 – $2,000 
Interest Rates
The interest rate and fees applicable on Ace Cash Express installment loans are very high and depend on the state where you live. Rates and fees applicable to different states are:
Delaware
In Delaware, a maximum term of 180 days with 5 equal installments are allowed. If the customer allows for automatic payments from bank accounts, then APR is 398%, otherwise, APR is 498%.
Florida
Payment terms are a little more complicated in Florida and there isn't ample information about the tenures on offer. However, APRs range from 211% to 248% for biweekly payments and 122% to 150% for monthly payments.
Missouri
The minimum term in Missouri is 120 days. For customers that allow for automatic bank payments and monthly payments, APR is 382% and for bi-weekly payments, APR is 378%. 
On the other hand, people who do not give automatic payment authorization are charged 475% APR on monthly payments and 478% APR on bi-weekly payments.
Texas
The maximum term is up to 180 days in Texas. For people who allow for automatic payments, APR is 524% (both bi-weekly and monthly payments) and for those who do not authorize automatic payments, APR is 630% (both bi-weekly and monthly payments).
New Mexico
According to New Mexico's laws, any loan lower than $5,000 cannot have an APR of more than 180%.
For in-store loans, you will have to visit the stores in person to get more information about rates and terms. But needless to say, it's fair enough to say that Ace Cash Express charges extremely high APRs for their installment loans. 
So, if you are interested in getting one, you should first ensure whether you have the financial ability to pay them off.
Requirements for Ace Cash Express Installment Loans
Requirements for installment loans are quite straightforward. You must be at least 18 years of age, a resident of the state you're applying in, and have a steady source of income (although, being employed is not necessary).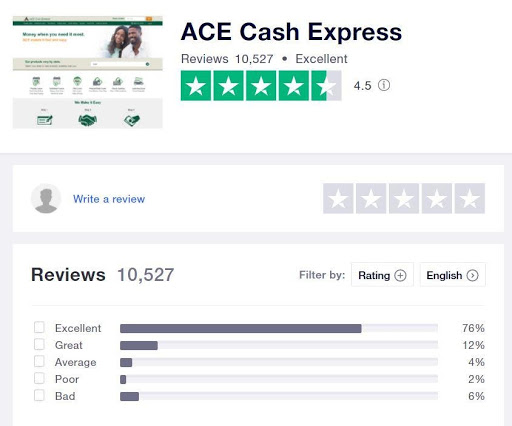 Furthermore, you cannot be an active member of the US armed forces or its affiliated forces such as the Coast Guard. Also, you cannot be a debtor in a bankruptcy case or an active bankruptcy filer yourself.
Online
Provide a social security number, an active email account, an active bank account, and a number you can be contacted through. 
In-Store
You must have a valid government-issued photo ID. You may also be required to give a Social Security Number and an email address. Furthermore, depending on the state you are applying in, you need to bring proof of income and proof of an active banking account or current debit card.
Reviews and Complaints
Ace Cash Express mostly has good reviews on its website, but that is to be expected. On Trustpilot.com, 76% of the reviews are excellent. Most people commend the company for helping them out of a bind and gush about their customer service.
There are also quite a few complaints about the company. For instance, some people complained about the fact that they weren't properly explained the terms and conditions beforehand. While others accused the company's representatives of blatantly lying about interest rates. You can read even more reviews here.
In conclusion, Ace Cash Express has inconsistent reviews and its rates vacillate widely depending on where you live. It may be in your best interest to shop around before buying.