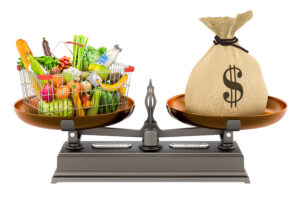 Growing up, there were lean years when it was difficult for my family to pay the monthly bills. Since we were living paycheck to paycheck, we had to find creative ways to stretch our budget as much as possible. We used all the conventional budgeting tips such as cutting coupons, buying off-brand items, and shopping at discount grocery stores. Yet, it never seemed like enough to lift the worry. However, my parents soon discovered that dollar stores are one of the best-kept secrets for budget-conscious families. We quickly learned that these are the 10 best dollar store grocery items when you are living on a budget.
10 Best Dollar Store Grocery Items on a Budget
When you think of the dollar store, you probably associate it with cheaply made items. While many things you get from the dollar store won't last more than a few months, there are still other ways they can save you money. This is especially true when it comes to canned and dried goods. So before you head to your local supermarket, look for these dollar store grocery items to help you save big on your next shopping trip.
1. Canned Goods
Canned goods are a budgeter's best friend because you can easily store them and buy them in bulk. And, they will last for years as long as the container remains intact. When my cabinets start running low, I head to the dollar store to stock up on canned goods.
Soups are the perfect pantry item for nights when you don't feel like cooking. However, cream of mushroom, cream of chicken, and cream of tomato soups are key elements in several recipes I make. So in my mind, you can never have enough of these around. Canned fruit is another good item to have on hand for lunches, side dishes, and substitutes when you can't afford fresh produce.
Next time you stop in your local dollar store, talk a walk down this aisle to compare prices. You will probably be surprised to see the same name brands for about 20% less than what you would pay at the grocery store.
2. Noodles
Noodles are another great value among dollar store grocery items. Although they don't last as long as canned goods, dry goods usually have a long shelf life as well. Plus, they can stretch a few ingredients into a hearty meal.
If you pay attention, you will find that you have a variety of different noodles to choose from. It's one of the most versatile ingredients as well that can create delicious and inexpensive pasta, casseroles, and soups, just to name a few.
3. Rice
Rice is another product we consume quickly in my house. After living in Asia, I have perfected the stovetop method. But, there are also more convenient options available as well.
Like noodles, you can easily add rice to stews, casseroles, and other dishes. It can quickly transform sauces into risotto or sauteed veggies into a massive stir fry. And if you look for brown and multigrain rice, it will also be more nutritious than other cheap meals you could make.
4. Cereal
My family absolutely loves cereal. My husband often prefers this in the morning to a hot meal. But, it's great for any meal of the day and snacks in between.
Even as adults, my husband and I go through a few boxes a month. Buying in bulk can save you money. However, you can save even more by getting generic alternatives that taste exactly the same from the dollar store.
5. Broth
If you cook a lot, broth is an important ingredient in many recipes. To save time, I use it as the base for childhood favorites like chicken noodle soup, minestrone, and stewed meats. As I became a better cook, I've also discovered that it's the perfect thickening agent that provides a good dose of flavor for any dish.
6. Condiments
Although you will find a much greater variety in the condiment aisle of the grocery store, the dollar store is a great place to stock up on your staples. Not only are they cheaper, but they also come in multipacks.
When you need ketchup, mustard, mayonnaise, barbecue sauce, salad dressings, etc. for your next gathering, head to the dollar store first. It's the perfect way to cut costs for summer barbecues and family get-togethers.
7. Spices
If it wasn't obvious by now, I love to cook. However, I enjoy foreign dishes which can get expensive if you are constantly buying new spices to experiment.
But if you are looking for the more common spices, you can find a good selection of them at your local dollar store. They may not have the more exotic ones, but you can cheaply replace salt, pepper, cinnamon, Italian blends, and other popular seasonings.
8. Baking Mixes
Those who enjoy desserts and bake regularly know just how expensive baking and decorating can get. However, you can get your baking mixes from the dollar store to help cut down on the costs. And since they last a while, you can stock up and stash them for the next time you have a celebration or need a sugar fix.
9. Snacks
Feeding a large family can require a huge chunk of your budget. Therefore, we stocked up on snacks at the dollar store to help reduce the monthly grocery bill. Most chains carry the same brand names for a fraction of the cost.
You will find a huge variety of snacks for lunches, after-school pick-me-ups, and weekend munching. Don't forget they also carry sweet treats to satisfy those cravings. It's also a good solution if your kids have friends over or you are planning a party with many more people to feed.
10. Coffee
One of my greatest vices is my addiction to coffee. I don't feel quite right unless I start my morning with a fresh pot of joe.
Depending on how much you drink and how specific your tastes are, it can get expensive. Fortunately, my tastes don't run too expensive. So, buying it from the dollar store saves me money and helps me enjoy my morning cup of coffee even more.
What are your favorite dollar store finds? Share your tips in the comments below!
Read More
Jenny Smedra is an avid world traveler, ESL teacher, former archaeologist, and freelance writer. Choosing a life abroad had strengthened her commitment to finding ways to bring people together across language and cultural barriers. While most of her time is dedicated to either working with children, she also enjoys good friends, good food, and new adventures.