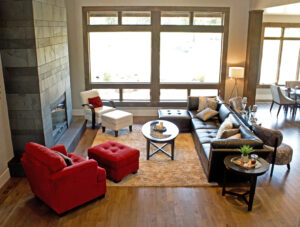 Getting your home ready to put on the market can be quite challenging. A small concern for you could be a deal breaker for a potential buyer. So, it's imperative to take the time to address issues in your home and on your property before putting your house on the market. If you are unsure where to start, here are the top projects you should start before listing your home on the market.
Window Replacement
Old windows are a major deterrent for home buyers. Many buyers want to move into a new home with little or no projects to take on. Potential buyers also look at the long-term savings that updated windows have on their energy bills. According to Energy Star, double-pane windows can shave 20% to 30% off of your air conditioning and heating costs compared to single-pane windows. New windows give your home the well-maintained and modern look buyers want.
Landscaping
The exterior of your home is the first impression prospective buyers will have. Any dead grass or unkept bushes, flowers, and trees are a huge turn-off. New landscaping can attract more potential buyers, especially in areas where outdoor living is prioritized.
Many buyers understand the time, effort, cost, and thought that landscaping projects need. You'll also be happy to know that quality landscaping can significantly increase your home value, allowing you to list at a higher price and generate more profit. According to Bob Villa, landscaping increases your property value by 20% or more. Be sure to reach out to local landscaping services to ensure you get the highest return on your investment possible.
Pest Control
A spic and span home free of any pests can help you your home much faster. You may only have one chance to make a good first impression and buyers will run to the hills if they notice any signs of cockroaches, ants, termites, rats, or other pests. According to the LA Times, termites were the main concern of approximately 20% of homeowners. It can also show buyers you might have neglected the upkeep of other parts of your home. Contact local pest control specialists to address issues before they grow into more significant and costly problems.
Painting
Painting is a relatively inexpensive project you should consider before selling. Whether you need interior, exterior, or both, fresh paint can add a clean and fresh look to your home. The painting shows buyers that your home is well-maintained and it also creates less work for them when they move in.
Buyers may also be as particular in other home areas with fresh paint. Always choose neutral colors that will appeal to as many buyers as possible. Shades of gray are popular since they are inviting and pair well with a wood and stone finish. Determine what your budget will be before considering a DIY project or hiring a professional.
Flooring
Floors are also a part of the home that buyers will notice right away. New flooring can drastically increase your home's value and draw in more buyers. Dirty carpets or floors with scuff marks and scratches will turn the heads of buyers quickly. Hardwood floors will be your higher-end option, while laminate and vinyl are in the middle tier. A new floor is still more beneficial than the old one, regardless of which option you choose.
Selling your home can be stressful if you don't know where to start on home improvement projects. There are many upgrades to consider before listing your home for sale. Always think about which upgrades will make the most impact on your current location and neighborhood. Remember, the less time and money buyers have to invest in a home, the better. Keep these upgrades in mind, and your home will sell in no time!