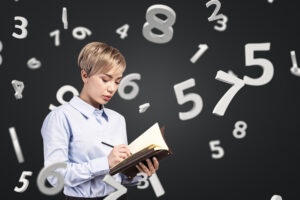 I firmly believe that people are the sum of the choices they make, both in their relationships and financial planning. However, there are often several outside factors that influence these decisions. So, here's a look at a few very important numbers that secretly control certain aspects of your life.
10 Numbers that Secretly Control Your Life
While you may have the most important ones memorized, there are other numbers that impact your finances in ways you may not realize. Here are 10 numbers that secretly control, or at least influence, your life.
1. Net Worth
Your net worth is the total sum of your financial assets and liabilities. It can be hard to determine your value. But, your net worth provides a quantifiable amount that shows the value of all your accounts, investments, real estate, and personal property weighted against your debts. And, it will have a heavy bearing on what kind of lifestyle you can afford.
You can calculate your net worth or ask your financial advisor to track it for you. Keep in mind that you will need to adjust your saving and spending habits at different points in your life to help your net worth continue growing.
2. Credit Score
American financial institutions rely on the credit system. So, your credit score is one of those numbers that secretly control your life. It will be an important factor if you need a loan to buy a car or house. Your score will impact whether you qualify for a loan in addition to the interest rate you receive. Therefore, you want to ensure that it is as high as possible.
It's a good habit to check it regularly to make sure there are no black marks in your credit history, errors, or suspicious activity. And, you can get a free credit report from all three agencies every year.
3. Debt-to-Income Ratio
Your debt-to-income ratio is another important figure for lenders. And, it's a good indication of your financial health.
Generally speaking, it compares the amount of money you owe with the amount you earn. The front-end ratio determines what percentage of your income pays for housing. If it is too high, it may cause lenders to disqualify you from a mortgage loan. The back-end ratio measures your total debt compared to your income which also impacts lenders' decisions. If your DTI is too high, it may be a sign that you need to change your spending habits or find other ways to reduce your debt-to-income ratio.
4. Savings Rate
Your savings rate is the amount you save from your income compared to how much you spend. It will determine how much you can save for retirement and how quickly you reach your savings goals. Most financial advisors recommend putting 15% into your retirement accounts and a little more into your emergency fund or other dedicated savings accounts. My advisor has suggested that 20% is a healthy savings rate for my household, but you can always save more if you have a specific goal in mind.
5. Mortgage Rate
This number should be a crucial consideration if you are deciding when to buy a house. The real estate market and mortgage rates are constantly changing. If you can get a lower rate, it means you pay less in interest.
Not only do you have to be aware of this when you accept the loan, but also after you start paying it off. Although mortgages had dipped to around 3%, they are currently much higher, averaging 6-7% for mortgages and refinancing loans. But, if you pay attention to market conditions, you could refinance and qualify for a better rate when the market is more favorable.
6. Inflation Rate
This has been a hot topic of discussion due to the current inflation rate. But, many people don't realize that while it fluctuates from year to year, it can vary between locations as well. When inflation rates are higher, you need to adjust your budget since your money won't go as far as it usually does.
Inflation is also one of the numbers that secretly control your life through your portfolio. It also has to be factored into your retirement planning to ensure that your nest egg will last you through your golden years.
7. Zip Code
Although you have no control over where you were born, it definitely has a huge impact on your life and your wallet. The cost of living and inflation will vary drastically depending on where you live. It is much higher in large urban areas like Washington D.C., New York,  and San Francisco. But, it even changes when you compare neighborhoods and suburbs within the same city.
Your state will also affect your income tax rates and Medicare benefits. Some states are more tax-friendly towards retirees and offer better benefits for their residents which is why many people move when they retire.
8. Age
You will have a different view on money depending on your age because adults' priorities change at each stage of life. Unless you come from generational wealth, young adults are more worried about getting established with schooling or their career, debt, and building savings. Once you reach midlife, taking care of your family and retirement planning become more important. And as retirement gets closer, people often become more conservative with spending since they have more healthcare costs and usually live on a fixed income. So no matter how old you are, your age directly impacts the way you think and how you handle your finances.
9. Size of Your Family
The size of your family will also impact your budget. More kids equal more expense.
In the U.S. the average cost for prenatal care, delivery, and postdelivery expenses is around $13,000. Then, there are the added costs for clothing, food, diapers, childcare, and doctors' visits. As they get older, there will be even more expenses for education and activities. Then, there is college tuition if they decide to pursue a degree. And if you want a large family, you must multiply the total by the number of children you have. When you do the math, you can see how the number of children will directly impact your budget and financial planning.
10. Your Vitals
Obviously, your vital signs control your life. But, they also are an important insight into your long-term health. Heart disease, cancer, and strokes are among the leading causes of death. Monitoring your health and working with your doctor will help you stay healthy and live longer. This is an important factor that will dictate your length and quality of life.
Taking Control of Your Finances
No matter what problems you face, financial or personal, you have two choices: continue to let them control you or take charge and become more active in changing the situation. You can choose to be a victim of your bad habits or poor decisions. Or, you can take steps to reclaim control and improve things. But, it all starts with an honest assessment of your finances and self-reflection to prioritize what matters most. While these numbers will always impact certain aspects of your life, you don't have to let them control you. If your finances are out of control, make the decision to plan the life you want.
Read More
Jenny Smedra is an avid world traveler, ESL teacher, former archaeologist, and freelance writer. Choosing a life abroad had strengthened her commitment to finding ways to bring people together across language and cultural barriers. While most of her time is dedicated to either working with children, she also enjoys good friends, good food, and new adventures.