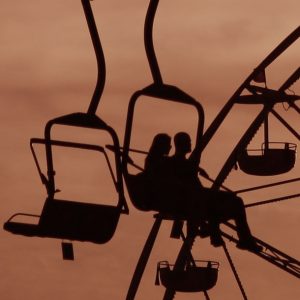 Date night can be a lot of fun, especially in the summertime when the weather is nice. However, with better weather comes
higher prices
. Gas prices tend to climb, people spend more money on food and a lot of individuals are planning out the perfect vacation. If you're looking to spend a night with your significant other, you don't have to spend a lot (or any) money to make it special. Consider these summertime date night ideas next time you take your sweetie out.
Picnic in the park
Grab your blanket and basket and head to the local park for a romantic picnic dinner with your honey. Going to the park is absolutely free. The only thing you'll have to spend money on here is the food you all bring. Pack a bottle of wine, different cheeses, fruit and veggies. Snack on the items you bring as you watch the sun set over your town.
Karaoke
If you and your S.O. enjoy listening to (or singing) karaoke, head to a local bar for karaoke night. You can sing and listen for free. If you choose, you can also have a drink or eat dinner there. Be sure to check out the bar's drink specials for the night. You'd be surprised by some of the deals bars have!
Bar trivia
Bar trivia, like karaoke, is also a fun way to spend date night. You two can grab a couple drinks and a table at your local bar and see how well you know your trivia. The more drinks you have, the more fun the trivia (and questions) become.
Go on a walk
Head out for a walk around sunset and chat with your significant other. You can both get exercise and spend time with one another at no cost to you. Make sure you bring something to take a photo as well. You may want to capture the gorgeous sunset or your spectacular partner while you're out walking.
Be a tourist in your town
Many cities and towns offer free tours and have free events you can attend if you are visiting. Find out what these tours and events are and go! Being a tourist in your own town can be a lot of fun. You may even learn something about the place you live that you never knew before!
Netflix and chill outdoors
Grab your tent, sleeping bags, computer and snacks and head outdoors. Whether you have a list of things the two of you want to watch on Netflix or you are going to play it by ear, cuddling up and watching Netflix is always a good, cheap date night. If you choose to do so, you can set up a tent and buy snacks for the two of you and make a night of it. Camp out in the back yard (where you still get WiFi) and binge watch your favorite TV show or scary movie after scary movie. Either way, you'll have a ton of fun (without spending a lot of money).
Do you have any cheap (or free) date ideas? Share them with us!
Photo: Flickr: Kevin Dooley
Amanda Blankenship is the Director of Social Media for District Media. In addition to her duties handling everything social media, she frequently writes for a handful of blogs and loves to share her own personal finance story with others. When she isn't typing away at her desk, she enjoys spending time with her daughter, husband, and dog. During her free time, you're likely to find her with her nose in a book, hiking, or playing RPG video games.