Everybody has their own ideas about what makes a perfect family home. Some value plenty of outside living space for children and pets to play; others look at designs and layouts that offer a quiet retreat for parents or open entertainment areas for when friends drop by. But there are some essential factors that every family home should have. Here are five of them.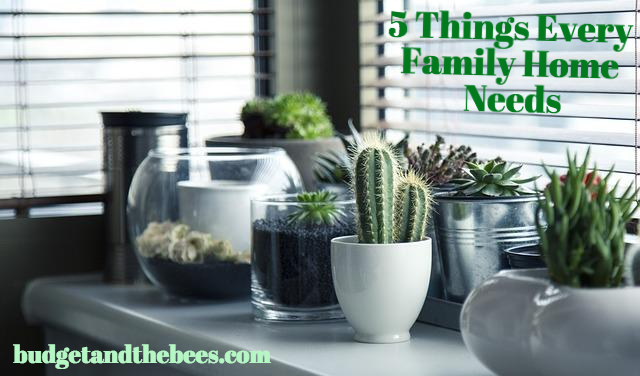 1. A Dishwasher
Washing dishes by hand may be therapeutic to a certain level, but washing the mountains of dishes a typical family goes through each day can wear down even the most enthusiastic human dishwasher. Thankfully, there's an automatic machine that comes in an array of sizes and designs to blend in perfectly with almost any kitchen. Modern dishwashers are quiet and quite economical with water and energy use, and they provide more time for families to relax or enjoy other activities together.
2. Private Space
No matter how well a family gets along, there are times when nothing can substitute for a quiet retreat. Whether that be a dedicated study, secluded nook or lounge room separated from the main activity centres of the home, there are many options with unique design features families can consider when renovating or building homes.
3. Two Bathrooms
Memories of growing up in older homes may feature arguments about who got to use the bathroom, in what order and for how long – a major source of family conflict. Modern homes have evolved, and it is almost unthinkable nowadays for the family home to feature only one bathroom. Common arrangements include an ensuite attached to the master bedroom, plus an extra bathroom for children and guests. While this doesn't completely eliminate the traditional bathroom queue, it does make early mornings less confrontational.
4. Solar Power and Hot Water
With energy costs gradually rising and renewable power options becoming cheaper, there are plenty of reasons to install solar energy units on the family home. In regions with even adequate sunshine the savings can be significant, and these will be influenced by special feed-in credits offered by governments and electricity providers. Solar hot water units can heat up water very quickly and store it with little heat loss, providing ample hot water for the entire family all day. Solar electricity panels on the roof can generate sufficient electricity to run most household appliances and slash quarterly household power bills, paying for themselves in just a few years.
When building your new home, consider installing solar energy. Builders like Coral Homes can usually incorporate it into your building plan, meaning it will be ready to go the first time you switch on a light.
5. Indoor Plants
Plants look great in gardens, but they also do wonders to add life and colour to the interior of a home. Aside from their aesthetic value as decorations and obstacles to be toppled by wayward children, live indoor plants offer another beneficial function: natural air purification. Favourites such as the peace lily absorb pollutants from the air and require minimal sunlight, making them ideal houseguests.
What's missing from this list? Share your ideas on things every family home needs below.