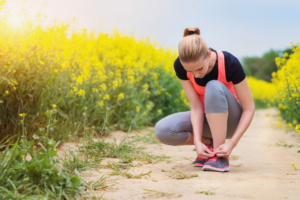 Summer is almost here, and the summer heat can swiftly lead to summer sweat. It's time for cooler clothes and breaking out the air conditioning. But what if you are on a budget and trying to save money this year? Not a problem. The good news is there are a few key ways you can make sure you stay cool and fresh this upcoming season without blowing your budget out of the water. Here are three ways that you can keep your body feeling oh-so-fresh and cool all through summer.
Get Plenty of Sleep
Sleep is good for you. However, there are many reasons why sleep can be hard to achieve, especially during the summer months when nights are hot and days are long. Luckily, there are ways to counter sleeping difficulties. There are ways to get yourself to relax before going to bed.
Don't get yourself worked up before bed, such as scrolling through your phone. Psychologists say that the bedroom should only be for sleeping. If you don't want to turn to sleeping pills, maybe play some soft music or nature sounds to get yourself to sleep. Try some breathing exercises before bed. You might even need total darkness to go to sleep. This is where blackout curtains could come in handy. The extra backing can block 99.9% of light. No matter what you choose, it will be worth it to get some much-needed sleep.
Take Care of Your Teeth
One of the easiest ways you can stay fresh this summer is by taking care of your teeth. According to the American Dental Association, you should be brushing twice a day. This helps to reduce plaque, which can turn into tartar in as little as 24 hours. Not brushing your teeth can also lead to bad breath, which isn't ideal for anyone.
Use the Right Skincare Products
During the summer months, your skin will be facing off against both the sun and your sweat. Make sure that you're applying plenty of sunscreen and using the right moisturizer. Heavy moisturizers during the summer months can clog your pores, which can cause acne. Use a thinner moisturizer that can be easily absorbed by your skin. Just be sure that you're using the right ones. When you're on a budget, it can be tempting to opt for pharmacy-brand products. However, there are some pharmacy-brand creams that lose 50% of their antioxidant capability after just six months. Read for the ingredients on the back of the products you plan to buy before you buy them.
Summer is coming fast, but fortunately, you can be ready by following the tips above. By getting plenty of sleep, taking care of your teeth, and using the right products for your skin, you can feel confident knowing you'll be feeling your best this season.