Renovating your home is your opportunity to update the house, get rid of old fixtures and appliances, and pull out a wall to expand a room. But it can be expensive work, especially if you're replacing a lot of the interior elements that are necessary to the function of the room. It's true there are some things you don't want to try to save on, such as safety features, but there are many ways to renovate on a budget and still come out with the house of your dreams.
Buy Secondhand or Gently Used Fixtures and Materials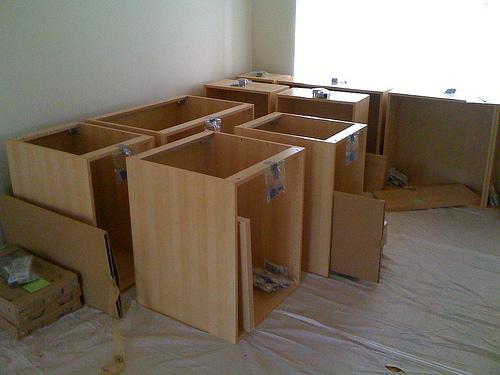 Image via Flickr by nickytheblade
You don't always need to use brand-new items to renovate. It's possible to get the same results with used, discontinued, and returned items from the stores. And sometimes contractors sell things that they wound up not using for a project and don't anticipate needing in the future. There are many avenues for buying what you want for less money along with the potential to get a better quality item than you would otherwise. The goal is to be persistent, ask around, and dig deep in the clearance sections to find the part that speaks to you.
Instead of buying new ones get your appliances repaired by a local exoert like dallas appliance repair company. This will help you save a lot of money on new appliances and Upgrading the appliances one by one will be much easier and economic.
Spend a Little Money on Safety
If you think you're going to do some of the work yourself, you don't want to go cheap on your safety gear. Some materials used in safety gear are designed to take one impact, then get tossed away and replaced. Buying brand-new items is your best bet to keep yourself safe. Get your safety goggles, knee pads, gloves, and work boots straight from the store. Don't get them used from anyone even though they look good and are priced right. You'll thank yourself later in the event something goes wrong during a risky operation.
Safety is the most important part of a construction project. If you're not sure of what safety gear is needed for the job, take time to research what the pros use and what brands are the most popular among contractors.
Make Plans and a Budget
The budget is the most important part of your renovations. It tells you how much you can spend without overreaching. The reason being is that it's easy to go overboard when renovating a space. It might be the only opportunity you have to make the house to your liking while you own it. Instead of throwing everything at the space, take a good look at what you're working with and figure out what it is you really want. That way you can check your budget and figure out if you can get what you want or if you need to compromise and buy something less expensive or lower quality.
These are some useful ideas to help you save money while upgrading your home. It's worth taking the time to find bargains because you wind up getting what you want at a better price point. With a bit of extra work, you can stay within your budget the entire time.