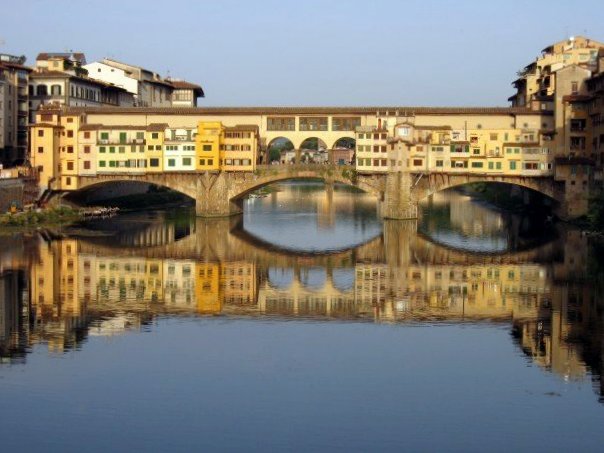 Italy has a special place in my heart. It wasn't the first place I visited outside the U.S., but it was, in a sense, my first true international experience. A high school senior trip to the Bahamas didn't really count, you know. It wasn't the same rich, cultural and life changing experience Italy was when I took a study abroad trip to Florence in college. I get incredibly nostalgic when I see others' photos or hear their stories about traveling in Italy. I definitely caught the Italian strain of that travel related illness people get.
I returned to Italy two years later with my boyfriend (now husband) and two friends who are also now married. I want to take my parents there some day. I want to return as soon as I possibly can. Few places give me warm and fuzzy feelings like Italy does, and especially Florence. I've never felt so independent and strong as I did on my own in Florence.
There are so many places in the world I long to see. In a new place I'll catch myself thinking, "I have to come back someday." That thought is usually fleeting when I remember how many other places I have yet to visit for the first time. Italy, on the other hand, truly earned that pedestal for me. So if in doubt, go! I would highly recommend a trip to Florence and then subtly hint that you should take me in your suitcase. Here are my must do itinerary items:
Climb to discover a different perspective
Florence, Italy is full of surprises. You never know the breathtaking views you'll find by walking the hills around the city or climbing a set of steps when you don't know what waits at the top. One of my favorite things to do in Florence involves a 463 step workout and ends with astonishing views. I recommend a climb to the top of the Duomo (Basilica di Santa Maria del Fiore) for an up close look at the engineering marvel the dome is. Not only is its structure amazing, but the fresco inside is absolutely incredible. Viewing the painting from the floor is an entirely different experience than seeing it up close. Past the art you'll continue to ascend and be rewarded with snippets of the grand views that await you at the top. The huffing and puffing is worth it as long as you're not claustrophobic.
Another trek to take is to Piazzale Michelangelo. You'll be rewarded with gorgeous city views and excellent photo ops.
Experience first hand the history you learned about in school
I can never seem to get over how old stuff is outside the United States. It totally blows my mind to see and touch buildings and streets and art that are older than my home country. It's humbling to step into another era, and that's exactly what happens in Florence. When you have some knowledge of da Vinci, Brunelleschi, Michelangelo, Botticelli, Dante or any other famous Italian and you see evidence of their life, it's surreal. In Florence you can lay eyes on something they saw and stand in a spot they stood in. It's magnificent and utterly surreal.
Whether an art person or not, you'd be missing out if you didn't spend some time in Florence's museums. I think anyone can appreciate the unfathomable skill required to make marble look like flowing cloth or tousled hair. Both the Uffizi Gallery (Galleria degli Uffizi) and the Academy (Galleria dell'Accademia di Firenze) should be high on your list. They're both popular for good reason, so I suggest purchasing advance tickets even if you prefer unplanned and unscheduled vacations. You'll spend enough time on your feet wandering around the art that you don't want to wear them out standing in line. There are often lines to buy admission tickets on top of lines to enter. Many companies want to sell you museum tickets online, but make sure you buy official tickets from Firenze Musei to be safe. The official website isn't as user friendly as you might expect, but it's fun to try your hand at translating Italian!
Put on your walking shoes
Your Florence itinerary deserves time for unplanned exploring. There are so many treasures to discover in this walkable city. You're likely to see amazing street art, find the cutest bookstore, or eat some of the best chocolate you've ever had. Wander into an old church with open doors and feel the pipe organ notes in your bones. Stumble upon a quiet square with your gelato or cappuccino and just sit, watching life around you. Exploring Florence on foot is a historical journey itself. I love a great public transportation system as much as the next person, but you just pop up at your destination, missing all the unique and interesting side streets and shops from point A to point B. Walking the ancient stone streets paints a complete picture of Florence, and the discoveries you happen upon may become some of your favorite trip memories.
While most tourist attractions are in the same area, don't miss the opportunity to explore life south of the Arno River. Maybe I'm partial because that's where I lived during my study abroad, but I think ditching the biggest crowds is refreshing. In Oltrarno, an area beyond the river, you'll find the Pitti Palace (Palazzo Pitti) and Boboli Gardens (Giardini di Boboli). The history and lifestyle of the ruling Medici family is fascinating to me, so their massive compound is incredible to see. The palace is a huge museum if you haven't gotten your art fix, but even the extravagant architecture and design of the palace is worth viewing alone. The gardens are beautiful and are hiding panoramic views of the city if you can find them.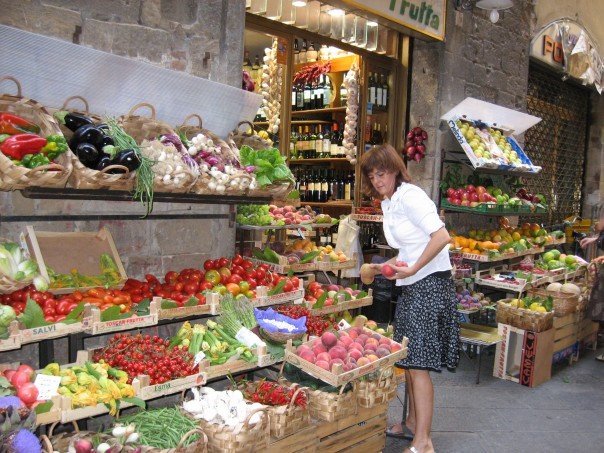 Eat all the things
There are so many markets and restaurants waiting to be discovered! Find things you've never had before. Take home aged balsamic vinegar. Eat pizza with "strange" toppings like potatoes. Always order dessert. Sip the limoncello slowly. Try the meat, even if you can't identify it. Eat fresh pasta. Order off the Italian menu and be surprised when it arrives (if you don't know Italian). Italy is a food lover's paradise, so do eat and drink up.
A final note on traveling anywhere abroad: I always recommend a guide book. While your vacation doesn't have to come exclusively from its pages, a quick reference for business hours, suggested attire, prices, and tips for navigating transportation is invaluable! It's always nice to learn interesting facts and useful tidbits when in a new place, and for years I've traveled with Frommer's guides. I haven't read the 2015 Italy book, but I know that I like the layout and ease of finding information in Frommer's books.
If you've been to Florence, what is your best memory there? Or do you have a different favorite Italian destination?