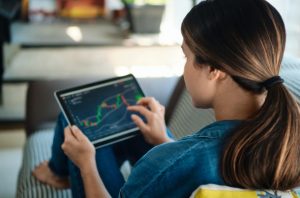 The past year has seen a spotlight shone on stock markets like no other. The controversy which erupted surrounding the "Robinhood phenomenon"— a trading app used millions of millennials and Gen Zers—has caused some concerns about the reliability and trustworthiness of online trading apps. But should you worry?
So Many Apps, So Little Time
In short, Robinhood came under fire when a buying frenzy sparked by mostly new, younger, well-heeled amateur investors began buying the beaten-down stocks of severely under-performing companies, most notably GameStop, a brick-and-mortar video game, consumer electronics, and gaming merchandise retailer. At the height of the rush, Robinhood was forced to restrict sales of the stock and it has come under scrutiny by government regulators for the way it "gamifies" stock trading.
Robinhood, however, is but one of hundreds of trading sites and by all accounts, wasn't doing anything essentially wrong. Stock trading—sometimes called day trading when performed by retail or amateur investors—is a fraught and complex financial strategy at the best of times. But if you have accumulated some extra spending money, have the time, inclination, and the stomach, it can be a lucrative way to build wealth—or at least make marginal returns on money you might otherwise have "wasted" frivolously.
While most of the available online trading apps have many of the same features, it is important to research as many of them as you can in some detail and get a feel personally for the features, likes, and dislikes of each. You might also like to consider spreading your investments across a range of different platforms, being aware that this will considerably increase your workload.
Phenomenal Growth and Many Opportunities
Make no mistake, the growth has been phenomenal. Popular site TD Ameritrade has seen its daily average trading volume rise four times from that traded at the beginning of fiscal year 2020, accounts at Interactive Brokers Group (IBKR) grew by 56% in 2020, while tastytrade's user-base almost doubled in the same period.
There is no doubt that investing in stocks is a wise addition to your portfolio; the key to success is finding the right fit for your money and sticking to the "long game". Day trading is not a get rich quick solution; it takes time, hard work, and dedication. In your research you could also do worse than visiting the Web sites of trusted publications such as Forbes, Barron's, and Money.com—all have recently published details of their recommended trading sites after making thorough analyses.